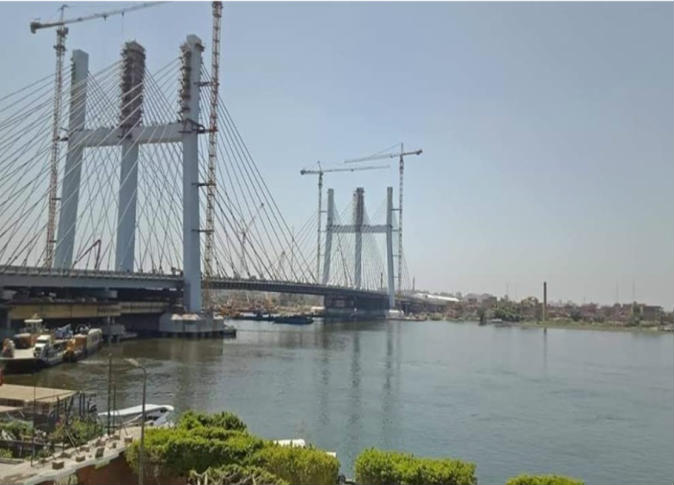 Regional Director of the Guinness Book of Records in the Middle East and North Africa, Talal Omar, handed a certificate on Wednesday to Mohamed Mohsen Salah, Chairman of Arab Contractors Company, officially stating the Rod al-Farag Axis Bridge as the widest suspension bridge in the world.
Traffic ground to a halt in parts of central Cairo on Wednesday morning as Sisi traveled to open the bridge with ministers and military generals, Reuters reported.

Omar called the Rod al-Farag bridge, also known as the Tahya Masr Bridge, one of the most important achievements of the human element in Egypt.
In a joint press conference with Salah, Omar said: "I am very happy to be in Egypt today to witness a new record."
"The Guinness Book of Records has recorded thousands of global achievements in various categories over the past six decades. The common factor of all these categories is the distinctive human element. This element seeks excellence, which we have seen through the achievement we have witnessed today in Egypt."
He explained that that bridge was recorded not because of the number of workers who participated in the construction or the length of time it took for construction, but solely due to it's width.
"We have been in contact with the Arab Contractors Company for two years to build the Tahya Masr bridge," Omar said, "We discussed the conditions for the record with the participation of experts from China, Egyptian universities and consultants," he added.
Omar praised the professionalism of the workers on the bridge and the meticulous organization, which was was one of the most important factors behind the achievement, he said.
Salah, Chairman of Arab Contractors thanked and expressed appreciation for President Abdel Fattah al-Sisi for his continued support and confidence in Egyptian companies.
He also thanked workers on the project, hoping that this would raise the achievements of Egyptian workers to international levels.
The bridge, which crosses the Nile just north of central Cairo, is a key link in a highway stretching from the Red Sea in the east to Egypt's northwestern Mediterranean coast, and is meant to help reduce congestion in the capital.
According to Reuters, at its widest the bridge has six traffic lanes in each direction and measures 67.3 meters (222 feet) across. A regional director for the Guinness Book of World Records present at the opening said that makes it the world's widest suspension bridge.
Around one million cubic meters of concrete as well as 1,400 km (2,268 miles) of steel wire for 160 suspension cables were used in its construction, according to a presentation given at the formal opening. The bridge crosses the Nile's Warraq Island, which has an estimated 100,000 residents, some of whom have protested against planned demolitions on the island and plans to develop it into a "modern residential community."
Edited translation from Al-Masry Al-Youm
Reuters information by Aidan Lewis, Mahmoud Mourad and Ahmed Tolba, Editing by Mark Heinrich