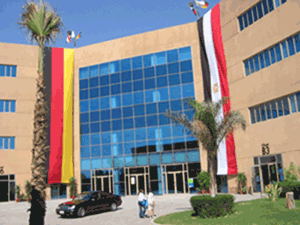 The student union at the German University in Cairo has said that three colleagues, including the union's chief, were released on Wednesday from custody detention where they have been held since Monday over charges of assaulting the university's president.
The union said in a statement on Wednesday that its head, Hazem Abdel Khaleq, his deputy, Karim Naguib and a third colleague, Alaa al-Attar, were released by prosecution services, having been detained pending interrogation over charges of assaulting GUC president Mahmoud Hashem.
A statement by the student union accused the university's board of taking "vengeful measures against the students", which also included depriving them from taking the exams.
The university had accused six students of assaulting Hashem during a sit-in they staged in March following the death of a colleague, Yara Tarek, who died when she was crushed under the tires of one of the university's buses.
Edited translation from Al-Masry Al-Youm