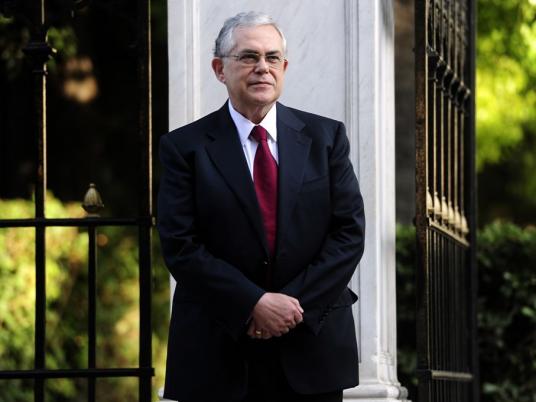 ATHENS — Greece is likely to hold snap polls on 6 May to elect a government that must steer the country through tough austerity, officials of the two main political parties said on Tuesday.
The officials said 6 May was the most favorable date after Athens clinched a new EU/IMF bailout deal this month and that conservative leader Antonis Samaras had expressed his wishes to Prime Minister Lucas Papademos.
The 130 billion euro bailout, secured to keep the debt-laden country afloat, was agreed under an emergency coalition government between the socialist PASOK and the conservative New Democracy party, led by technocrat Papademos.
Asked about the possible date of elections, Defense Minister Dimitris Avramopoulos, a senior New Democracy official, told state NET television: "Logically, it should be on 6Ma y."
The New Democracy party is leading in opinion polls but the socialists are catching up and the surveys show the party is unlikely to win an outright majority. Even together, the two parties may not secure enough votes to form a coalition, a situation that could put the austerity plan at risk.
PASOK is the only other party to support the bailout.
The European Union and International Monetary Fund have warned Greece that whoever wins the election must stay the course of economic reforms for Athens to continue receiving the bailout aid.
New Democracy has been pushing for the election to take place as early as possible. It had said it wants the poll to take place on either 29 April or 6 May.
"The elections will be held 6 May," a PASOK party official quoted party leader Evangelos Venizelos as saying during a party meeting on Tuesday.
Other officials confirmed this was emerging as the favorite date but said it was not set in stone.
"No decision has been taken yet but 6 May is a very probable date for the elections," a government official, who declined to be named, told Reuters.
Deep recession
The election, originally scheduled for October 2013, has been brought forward because of the debt crisis.
Austerity measures already implemented to try and cut a mountain of debt have plunged Greece ever deeper into recession and driven unemployment to above 20 percent.
The euro zone, and particularly its northern members led by EU paymaster Germany, are deeply skeptical that Greek leaders will stick to further painful spending cuts and reforms after an election is held.
Political analysts say the New Democracy party and PASOK may not secure half the 151 seats in parliament unless their combined support tops 36 or 37 percent.
Before the election can be held, parliament — which rubber-stamped the bailout deal last week — must pass several implementation rules and reforms. Elections are usually held about a month after parliament is dissolved.
Government spokesman Pantelis Kapsis told reporters that all bills must be voted by 10 April, before the Orthodox Easter holiday on 15 April.
"We don't want to just put our pencil down, we aim to create the best conditions for the next government to start working immediately," he said.