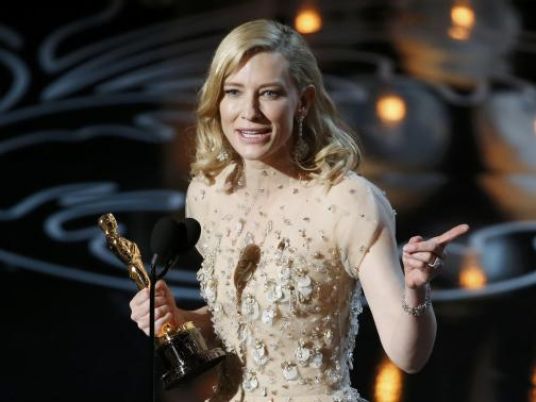 Greek filmmaker Athina Rachel Tsangari scooped the top prize at the BFI London Film Festival Awards Saturday, while Oscar-winning actress Cate Blanchett was honored with a fellowship.
Tsangari's film "Chevalier", which deals with the male ego and macho rivalry showcased by six men on a boat competing in wacky masculinity contests, won the praise of Oscar-winning director Pawel Pawlikowski, president of the official competition jury, who called Tsangari a "brave and original filmmaker".
It beat diverse competition from entries including Cary Fukunaga's "Beasts of No Nation", a chilling portrait of child soldiers, and "Office", a "financial world-set musical" from Hong Kong crime director Johnnie To.
"With great formal rigor and irresistible wit, Athina Rachel Tsangari has managed to make a film that is both a hilarious comedy and a deeply disturbing statement on the condition of western humanity," Pawlikowski said.
Blanchett, meanwhile, received her fellowship award from Lord of the Rings actor Ian McKellen at a ceremony hosted by musician and former Pulp frontman Jarvis Cocker.
The 46-year-old Australian actress's latest film "Truth" — a story about investigative journalism and politics — had its European premiere on Thursday, a day after the star walked the red carpet at the festival to promote the much-praised "Carol", in which she plays a married woman embarking on a lesbian romance in 1950s New York.
"The pedigree and the list of people who come before me is rather daunting but I'm really excited," Blanchett had said days earlier, after being told she was to receive the accolade.
Previous winners include Al Pacino, Tim Burton and Ralph Fiennes.
American filmmaker Robert Eggers won the Sutherland award for "original and imaginative first feature" with "The Witch", about a 17th century New England family torn apart by accusations of witchcraft.
The Grierson prize for best documentary went to Australia's Jennifer Peedom for "Sherpa", a film about "tragedy and mayhem on Mount Everest", while the best short film award went to India's Shai Heredia and Shumona Goel's "An Old Dog's Diary", a film portrait of Indian artist Francis Newton Souza.
The BFI London Film Festival is in its 59th year, and closes Sunday with the gala screening of Danny Boyle's Steve Jobs, a film about the late boss of tech firm Apple starring Michael Fassbender, Kate Winslet and Seth Rogen.