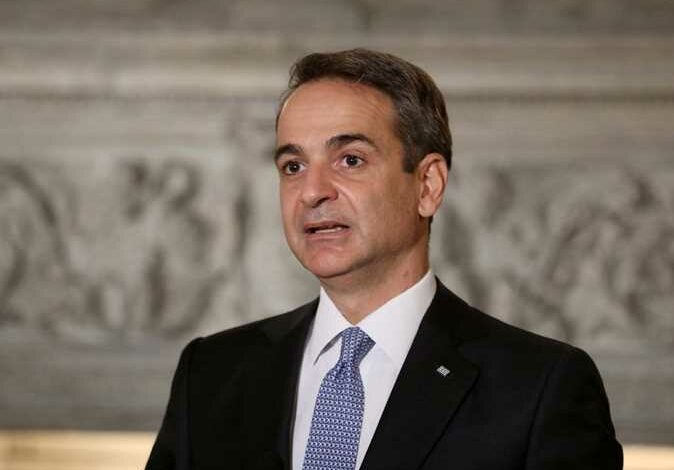 Greek Prime Minister Kyriakos Mitsotakis expressed his support for Egypt's position on the Grand Ethiopian Renaissance Dam (GERD) dispute.

"We support Egypt's positions regarding the Renaissance Dam," he said, adding that the issue must be resolved by peaceful means, and that the Nile waters are vital for life.

The Egyptian and Greek visions are also consistent regarding the Libyan crisis, Mitsotakis said, in a joint press conference with President Abdel-Fattah al-Sisi on Monday following talks at the Ettihadeya Presidential Palace.
He stressed the need to return peace and stability to the Libyan state through the withdrawal of foreign forces and holding democratic elections before the end of the year, so that the Libyan people can choose their own political future.

He added that Greece supports all attempts by Sisi to resolve the Libyan crisis, and said that Greece and Egypt are setting an example of cooperation in respect of the UN Charter and the Law of the Sea.
Mitsotakis praised Egypt's role in achieving a ceasefire between the Israelis and Palestinian.
He said that the Greek foreign minister traveled to the region, including Egypt, to clear the atmosphere during the crisis between the Palestinians and the Israelis, and to activate the existing truce – of which Egypt played a crucial role.

Economic cooperation between the two countries contributes to their development, he said, while cooperation between the energy and environment ministers of the two countries is of great importance especially regarding electrical linkage via an undersea cable that will transfer to Greece and Europe electric power made via green energy.

Sisi said during a press conference with Mitsotakis that Egypt stands in solidarity with Greece against what threatens its sovereignty.
He affirmed Egypt's position in the eastern Mediterranean, regarding the principles of non-interference in the internal affairs of other countries and stressed its solidarity with Greece against what threatens its sovereignty.
"Relations with Greece are a model for cooperation and integration at the regional level, as Egypt and Greece share distinguished friendship ties," Sisi said, adding that Egypt's position is consistent in the eastern Mediterranean region regarding the sovereignty of territorial waters of countries.
Tensions between Egypt, Cyprus and Greece versus Turkey are flaring up over the resources of the Mediterranean, as Egypt accused the Turkish authorities of continuing to take unilateral measures that exacerbate tension in the Mediterranean, against the backdrop of Ankara sending a second ship to the coast of northern Cyprus to explore for gas.