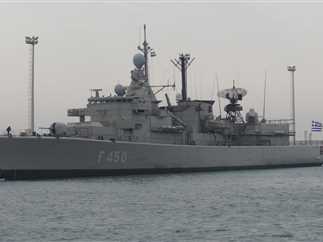 The Egyptian armed forces announced on Monday the launch of the Egyptian-Greek-Cypriot joint Medusa 8 military training that will feature the participation of members of the Egyptian, Cypriot, and Greek naval, air, and special forces and will continue for several days within Egypt's Mediterranean Sea.
The exercise is part of the annual joint exercises plan carried out by the Egyptian armed forces to promote military cooperation with brotherly countries and improve the efficiency of its forces.
The training included Mistral helicopters carrier Anwar Sadat, the "209" submarine, the Suleiman Ezzat missile craft, and a number of multi-role F-16 aircrafts.
The Greek side participates with a frigate, a landing craft, a submarine, a minesweeper, and a number of F-16 fighter jets. Cyprus participates with a long-range transport vessel and Special Forces elements.
The training aims to enhance the skills of the participating forces by exchanging experiences and preparing those forces to carry out joint tasks under varied circumstances. The larger goal is protecting vital Mediterranean targets against potential threats.
The training comes in light of the growing partnership and military cooperation between the Egyptian Armed Forces and allied countries. The forces are working to meet growing challenges in the Mediterranean region.
Edited translation from Al-Masry Al-Youm