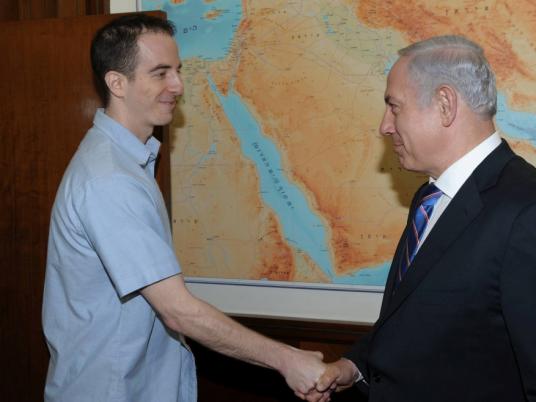 Alleged Israeli spy Ilan Grapel, who was released Thursday in a prisoner exchange deal between Egypt and Israel, thanked Egyptian authorities for treating him well during his four months of detention.
"I have also to thank the Egyptian authorities that treated me respectfully according to the tenets of their religion," Grapel said in a press conference on Thursday.
"I would like to also thank all those who fought for my release, including both Israeli and American officials," the Israeli Yediot Ahronot news agency's website reported him as saying.
Ouda Tarabin, an Israeli Bedouin who has been detained in Egypt for nearly a decade accused of spying for Israel, will be released sometime in the next few days in another swap deal, a representative of his family in Israel told the Voice of Israel radio station Thursday evening.
Yitzhak Molcho, Israeli Prime Minister Benjamin Netanyahu's chief negotiator for the Israeli-Palestinian peace process, and Knesset (Israeli parliament) member Yoel Hasson informed the Tarabin family's representative that Ouda will be released in exchange for 60 Egyptians currently detained in Israel on charges related to Israeli national security.
Tarabin was sentenced to 15 years in jail in 1999 for transferring sensitive military information to Israel.
Grapel was returned to Israel on Thursday night in exchange for 25 Egyptians held in Israeli prisons. He crossed into Israel from the Egyptian border town of Taba.
Translated from the Arabic Edition