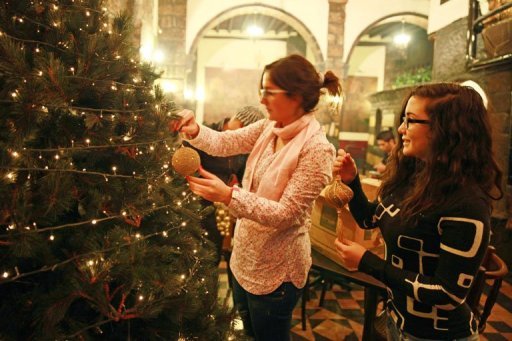 Grand Mufti Ali Gomaa issued a fatwa Wednesday encouraging Muslims to spread brotherly warmth by offering greetings to Christians on their religious occasions.
The religious edict came in response to a decree by the Jurisprudence Commission for Rights and Reform, a panel of Salafi scholars and clerics, forbidding Muslims from congratulating Christians on Christmas.
"Religious festivals are originally special occasions for each sect … It is not permissible to participate or congratulate followers of other religions on religious events, which specifically differentiate between various [religions]," the body said in a statement.
Gomaa countered the statement by saying, "In light of the current circumstances, we need [to promote] brotherly feelings, solidarity and national unity to drive out discord and disagreement."
Gomaa called on Muslims and Christians to foster positive feelings and turn them into useful visions for the development of the country. He also said the birth of Jesus represents a birth of good, peace and mercy not only for Christians but for all people.
Sufi orders also rejected the jurisprudence panel's decree, saying they would send a delegation to churches to greet Christians on the holiday. They also called on Al-Azhar to respond to suspicious "fatwas" that contradict the moderate nature of Islam.
"The Sufi orders decided to participate in the celebrations of Christmas as a way of applying citizenship as well as the spirit of Islam in loving others," said Mustafa Zayed, coordinator of the General Coalition of Sufi Orders, who called the decree a "jihadist fatwa."
Essam Mohieddin, secretary general of the Sufi-led Egyptian Liberation Party, said, "The decree must not get a response or be taken into consideration, because it was issued by unofficial bodies that do not represent Islam at all."
Egypt's Coptic Orthodox Church celebrates Christmas on 7 January.
Edited translation from Al-Masry Al-Youm