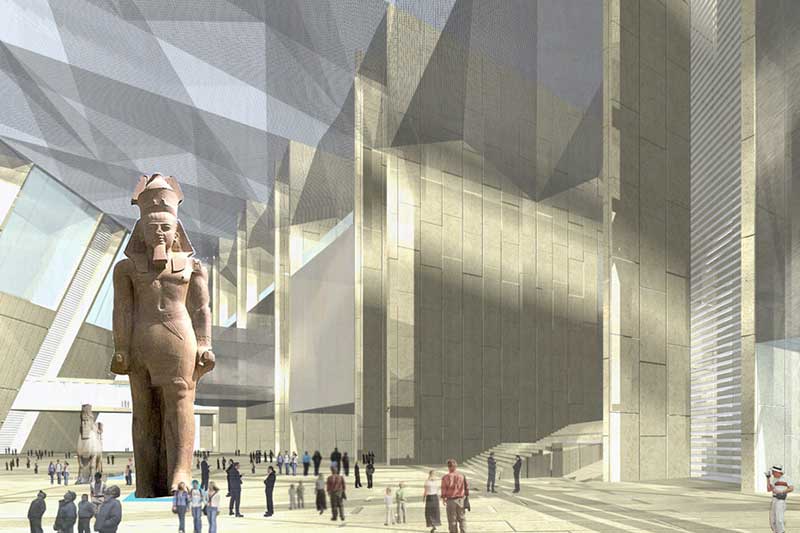 The Grand Egyptian Museum (GEM) received on Monday 331 artifacts, including 42 artifacts that belonged King Tutankhamun. Many of the artifacts were previously on display at the Egyptian Museum in Tahrir Square. 27 of the transported artifacts belonged to the ruler Khufu; they were removed from the private restoration lab at the pyramids area.
General Director of Archaeological Affairs Area at the GEM Tayeb Abbas explained that the transported artifacts of King Tut include sandals made of camel hay, weaving, papyrus, a wooden silo to preserve grains and cereals, food utensils, arrows used by King Tut during hunting trips, and a statue of the god Serapis of Alexandria (from the Greco-Roman era).
General Director of Executive Affairs for the Restoration and Transportation of Antiquities at the Museum Essa Zidan said that 49,779 artifacts have so far been transferred to the museum, which will be open by the end of 2020.
Zidan said that 240 foreign archaeological missions cooperated with Egyptian archaeologists to implement 90 percent of the excavation and restoration works for the museum.
The GEM's construction is more than 88 percent complete, and the museum is set to open by 2020 before the previously-announced official date in 2022.
Construction of the museum first began in 2006 but slowed down due to the outbreak of the January 25th revolution.
Groundbreaking with respect to its exhibited artifacts, the museum aims to impress with King Tutankhamun displays never shown since Tut's tomb's unearthing in 1922. Egypt's Tourism Minister Rania Al Mashat said in May that King Tut's tomb will be displayed via hologram technology during the opening of the GEM.
Constructed on approximately 500,000 square meters, the mega museum is located nearby the Giza Pyramids. The GEM is expected to be one of the largest museums in the entire world dedicated to the heritage of a single civilization.
Edited translation from Al-Masry Al-Youm