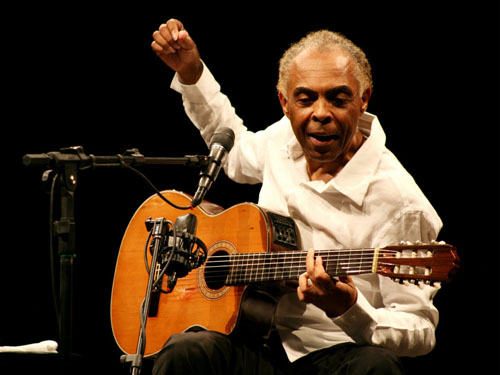 It only makes sense that Brazilian musician Gilberto Gil is this year's "Guest of Honor" at the fifth Cairo Jazz Festival. Each year, the festival pays tribute to a major musician who has influenced the genre of jazz, such as Egypt's Omar Khairat and Lebanon's Ziad Rahbani.
Gil is something of a phenomenon. Since the 1960s, he has pioneered new forms of music by blending together bossa nova, rock, reggae, folk, jazz, samba and African genres. His self-contained musical style is virtually inimitable.
Along the way, Gil's socio-political infused songs reflected his activist roots and cries for change, prompting the Brazilian military junta to exile him.
Years later, he returned to his home country to continue his musical and political career, in addition to his relentless environmental advocacy.
In 2003, Gil was appointed as Brazil's culture minister under former President Luiz Inacio Lula da Silva. He remained in this post until 2008 and is credited with countless cultural and environmental contributions during his time in office.
Throughout his 50 years of music and political activism, Gil has managed to greatly impact the musical world as well as the political landscape of Brazil. He has 52 albums under his belt that sold over 4 million copies globally. He also won nine Grammy Awards.
"When the idea came to us to invite Gil as the festival's guest of honor, I never expected that he would accept the offer due to all the political turbulence happening in Egypt," says Amr Salah, Cairo Jazz Festival's co-founder and director. "But he was so kind, humble and rather eager to come. Gil has spent a lifetime combining culture and politics for social change, and thus, there was no better candidate to present with the festival's lifetime achievement award."
The Cairo Jazz Festival was founded in 2009 by local jazz musicians Ahmed Harfoush, Samer George and Amr Salah. Now in its fifth year, the festival continues to remind the world that despite the political unrest in the country, Egypt is still a place where music can both flourish and positively impact society.
"Culture and entrepreneurship can never stop," says Salah as he recites the slogan for the festival's fifth edition. "We believe culture and music are the only things that bring people together — nothing else. If we want a solution to all our problems in Egypt, then this is the start of one."
"We need to organize around creation and focus on culture," he adds. "It is a pity that the country does not see culture as priority at all, specifically the Culture Ministry. It is as if they are taking a nap."
He says the festival will again aim to showcase jazz music for a wider audience, while also expanding educational and awareness outreach programs to various private and public schools.
"Our educational workshops are a very brief and small contribution to cultural development," says Salah. "While our aim would ultimately be having jazz become part of the academic curriculum, we need stability and security first in this country before we can even begin speaking about that," he adds.
In the meantime, the Cairo Jazz Festival is offering a children's workshop called "Jazz 4 Kids," organized by The Jazz Society of Egypt in collaboration with Suzan Overmeer and AMID East. Overmeer is known for her work in developing educational jazz programs for children in primary schools.
The two-day workshop will take place at Darb 1718 Cultural Center in Old Cairo. Starting on 22 March, the program will offer free education services to music students to help them interact with international and local artists and participate in a knowledge exchange.
"For this program, AMID East has recruited 15 girls from various public high schools that show musical talent or potential, as they are heavily involved with education in rural areas," explains Salah. "The kids will then go through the workshop with [Overmeer] and hopefully something positive can come out of it."
Other educational programs include a "Master Class" with famed French Jazz-fusion musician Christophe Wallemme from NAMASTE band, in addition to a lecture by American KJ Denhert, who was named as one of Jazz.com's top female vocalists in 2009. She also won the prestigious John Lennon Song writing contest award in 2012. Both workshops will take place on 23 March.
"We are also doing something really exciting this year," says Salah, "It is a bit experimental, but we are inviting 200 secondary school students — who are interested in music or show academic promise — to see and hear three of the best jazz performances on Saturday," he adds.
The Saturday concert at Darb 1718 will feature three back-to-back performances by the Blue Notes band from Egypt, KJ Denhert, followed by Sabrine El Hossamy and The Doum Do Trio, a quartet ensemble with members from Egypt, Holland, Poland and Romania. The quartet will be performing songs from its recent album "Conversations with Rhythm," which offers a fresh approach to oriental fusion.
"I feel so proud to debut my performance project with the Doum Do Trio here in my native country," says Hossamy, also known as Sabrine Darbuka. "To do this in such difficult times is motivating to me. I am grateful to the organizers of this festival, who push forward no matter the circumstances. Art is a way to get out of the pressure and depression that we live through," she adds.
Darb 1718, which is an official sponsor this year, will a host a large portion of the festival's activities in addition this show. Concerts at Darb 1718 will include the brilliant oriental-jazz fusions and polyrhythms of Karim Hossam and his group, followed by Kristiina Tuomi from Germany and the much-anticipated performance by the Arch Stanton Quartet from New York.
The four-piece ensemble have made the international jazz buzz for its modern spin on bop and post-bop jazz, mixed with angular funk, Latin grooves and improvisation, for good measure.
For the first time, Al Azhar Park will also be a sponsor and host many of the headline acts. The grounds will feature two stages with back-to-back performances throughout the three-day event.
Friday 22 March is certain to be a magical evening with performances by local Jazz-fusion band Eftekasat performing with Alex Simu and his ever-rare tenor-clarinet. Later that evening, GMH Orkestar from Austria will take to the main stage with its quintet of virtuosos, followed by KJ Denhert with her special blend of urban folk and Jazz.
The side stage will also host some killer acts spanning from around the globe, including Neil Cowly Trio from the UK, Mitko Rusev from Bulgaria, Japan's Mikarimba and Miguel Amando Group from Portugal.
On 23 March, Lithuania's Dainius Pulauskas will open up for legendary Lebanese jazz man Ziad Rahbani and his 26-piece big band. The side stage will also feature Arch Stanton Quartet, Rembrandt Frerichs Trio from Holland and French act Namaste.
Other local acts involve performances by the Ali El Farouk Trio featuring Karam Mourad in addition to Negmo and The Electro Jazz Clash, which will perform during the after hour show as part of the "Jazz Beyond Stage" program hosted by the Cairo Jazz Club each year.
Another highly anticipated performance will also take place on Al Ahzar Park's side stage featuring local rising-star Dina El Wedidi with her socio-political Arabic-folk numbers.
Wedidi, who recently returned from a mentorship program with Gilberto Gil, claims the experience was a turning point in her musical career. Later this year, Wedidi will be touring and performing with Gil at several international music festivals worldwide.
The Cairo Jazz Festival kicks off on 21 March and continues until 23 March. For more information about the festival and program, visit the festival's website