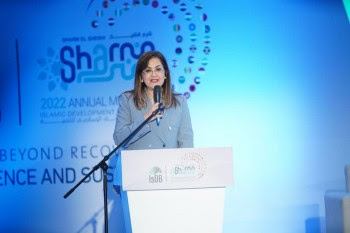 Minister of Planning and Economic Development and Egypt's Governor at the Islamic Development Bank Group (IsDB) Hala el Said has said the government is firmly committed to guaranteeing an enlightened future for the Egyptians and placing the State at the forefront of economic, social and technological progress in line with Egypt 2030 Vision.
The minister was speaking during her participation in a session held on Thursday as part of the 2022 Annual Meetings of the Islamic Development Bank Group, currently in session in Sharm el Sheikh under the patronage of President Abdel Fattah El Sisi.
The importance of the evidence-based policies stems from the actual purpose of the public policy, mainly when it comes to efforts to meet the citizens' needs effectively, improve their living standards and guarantee a prosperous future for the coming generations, she said.
The Egyptian government launched, before the coronavirus pandemic, the first phase of the economic and social reform program which is aimed at achieving macroeconomic stability and promoting competitiveness, Said added.
As per the economic reforms, Egypt managed to take immediate steps to address the recent crisis, giving priority to social protection and human development programs, she said.