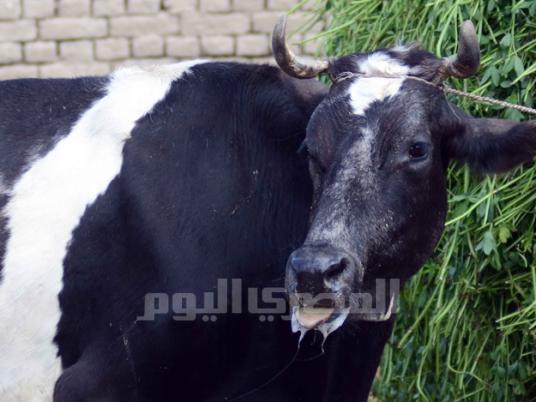 The state veterinary authority has rejected experts' demands for Egypt to stop importing live cattle and frozen meat from Nile Basin countries, amid suspicion that the imports have led to new foot-and-mouth infections.
During a meeting on Wednesday, the General Authority for Veterinary Services declared that sheep smuggled across Egypt's border with Libya caused the foot-and-mouth epidemic, adding that shipments from Nile Basin countries are subject to rigorous checks in both those countries and Egypt.
The authority asserted that no animals imported from the Nile Basin have shown signs of infection.
As of 26 February, the number of cattle infected with foot-and-mouth has risen above 10,000. The veterinary authority said the new infections are spread when traders violate the ban on transporting cattle between governorates and fail to implement medical and veterinary procedures to protect the animals.
The decision to continue importing livestock and meat came as the Veterinarians Syndicate expressed its fear the situation would worsen, amid rumors that Egypt may witness a new bout of the rift valley fever, which, unlike foot-and-mouth, threatens humans as well as animals. The Agriculture Ministry has denied these rumors.
Syndicate head Samy Taha said if the state insists on continuing to import cattle and sheep, particularly from Ethiopia, then the animals should be dead and frozen.
Taha added that the "meat mafia" — referring to Egyptian meat traders — imports live cattle from Ethiopia because of their low prices. These cattle are old and more prone to epidemics, he said.
Translated from Al-Masry Al-Youm