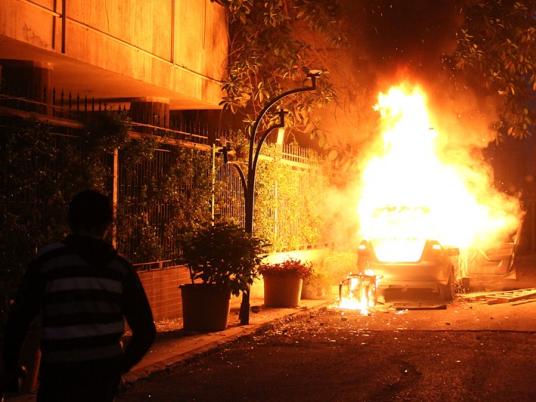 Protests commemorating the fall of former President Hosni Mubarak, and urging the same fate for current President Mohamed Morsy, swept through the governorates on Monday, the second anniversary of Mubarak's resignation.
In Tanta, violent clashes erupted between police forces and hundreds of demonstrators as they demanded the release of political activist Nasr al-Shafie. Police fired tear gas into the crowd, wounding four, as protesters fired back with stones and Molotov cocktails.
The security directorate deployed additional forces to secure the Gharbiya Governorate headquarters and cordoned off the surrounding area. Protesters retaliated by blocking the city's main streets, torching tires and blocking traffic.
Dozens of political activists staged demonstrations in Fayoum, demanding Morsy's resignation and chanting slogans against the Muslim Brotherhood. Security forces intensified their presence around governorate headquarters against potential attempts to storm the building.
In Alexandria, dozens protested in front of Al-Qaed Ibrahim Mosque. Alexandria University students also staged marches at the university campus. Demonstrators called for justice for those who died during the 2011 revolution, and raised photographs of several martyrs.
Hundreds of members of opposition parties staged marches in Zagazig, Sharqiya Governorate, commemorating Mubarak's ouster and calling for the renewal of the demands of the revolution.
Protesters assembled in front of the governorate office, then marched to Morsy's home in Zagazig. Members of the Constitution Party, Popular Current, Tagammu Party, April 6 Youth Movement, Black Bloc and other forces took part, as well as citizens not affiliated with any party or movement.
Participants raised banners and chanted slogans against the Morsy administration, including calling for the dismissal of the Cabinet. They slammed Morsy and the Muslim Brotherhood, calling for amendments to the Constitution, representative parliamentary elections, social justice and the implementation of a minimum and maximum wage.
Edited translation from Al-Masry Al-Youm