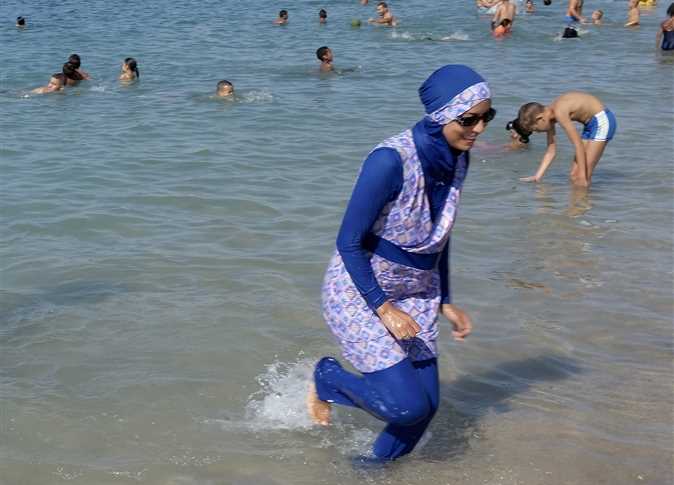 The Chamber of Tourism Establishments issued a statement warning hotels against banning women from swimming in burkinis (swimwear for hijabi women), stating that they should be permitted to do so as long as the suit in question is made of approved materials that avoid health problems.
The statement specifically addressed hotels and resorts in Ras Sudr and Ain Sokhna that prohibit guests from swimming in the burkini as alleged by complaints received by varied online platforms belonging to the Cabinet of Ministries and its hotlines, Head of Hotels and Hospitality Authority Abdel Fatah El Assy told Masrawy.
The statement further urged Egyptian hotels to modify their swimming pool regulations panels to allow Hijbai women to swim normally in the burkini.
Assi affirmed that this statement is known to be released on a regular basis during the summer to secure guests' rights in enjoying their stay at any of the Egyptian hotels as long as they follow set regulations.
"When guests are swimming with regular clothes such as a blouse or pants is the only case in which hotels can bar them from using the swimming pool," Assy told Masrawy, clarifying that otherwise, hotels are not supposed to prevent guest from swimming in any swimming suit.
He furthermore pinpointed the undesired consequences of swimming in regular clothes, including the harboring of harmful bacteria and a negative image that doubtlessly impacts the tourism flow.
In the same manner, the cited official denounced the ban instituted in some resorts, asserting that a status of equality between foreigners and Egyptians should be respected, according to the statements issued for Masrawy.
The governmental decision first came in 2017 in light of similar ban incidents recorded by dozens of hotels guests, prompting the Hotel Association to stop the hotels from banning burkini wearers from swimming.
However, the decision was later cancelled as many hotels insisted that as private entities, they have the privilege of deciding whether to allow the burkini or ban it.
Tamer Nabil, member of the board of directors of the Egyptian Hotel Chamber, ensured that there is no law preventing any guest from swimming in the pool, but some resorts do not uphold the same regulations given that they belong to the private sector.
Many hotels' managements express their fears of allowing the burkini on their premises as wearers may transmit particular diseases. They argue that the swimming suit covers the whole body, not revealing whether the wearer has serious wounds that may generate harmful bacteria.