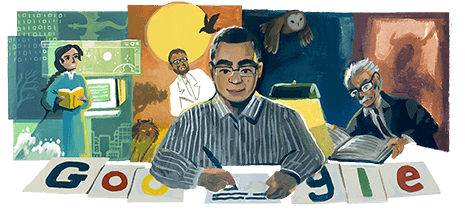 To celebrate his 57th birthday on Monday, 10 June, Google has honored late Egyptian author and physician Ahmed Khaled Tawfik with a Google Doodle of him at work.
Tawfik, one of the most influential writers of his time, will soon have his acclaimed "Paranormal" (1992) book series adapted as a Netflix series in a significant collaboration between the video streaming giant and renowned Egyptian directors Mohamed Hefzy and Amr Salama.
The books revolve around Dr. Refaat Ismail, who confronts strange, supernatural incidents.
Tawfik thrived in the literate world through writing about varied issues including love, hatred, relationships, politics and more, tackled through his writing in mediums such as novels and articles.
Graduating from medical school enriched his writings by providing a background he used to merge literature and medicine, allowing him to picture how people across different backgrounds view death and life, as he was a direct witness to people at their best and worst moments in life.
"I told her that people should marry each other only to bring to the world a child who is better than them; more beautiful, richer and stronger. What would we give this world? Only more misery?" Tawfik wrote in "Utopia", one of his most popular stories involving a city where rich people live to seek pleasure and joy, disregarding all other classes of people.
Tawfik did not shy from discussing political issues directly in articles he used to publish on a regular basis in prominent media outlets and indirectly in many of his novels. He spoke against dictatorship, contrasting it against true, positive leadership as exemplified in this quote "We are all weak, like a rabbit with those who are stronger than him, while he is cruel, rude, strict with those who are weaker than him. True nobility is being merciful with those you can harm and destroy!"
He passed away in 2018 following a surgery to correct his life-long arrhythmia, which led to cardiac arrest.
One of his last novels, "Shaabib", told the stories of mulitple Arabs scattered across the world under varied circumstances, having left behind their homelands.