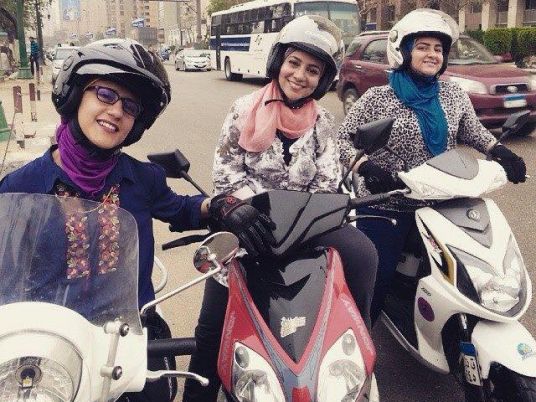 Women riding bikes used to be common place in Egypt. In old black-and-white Egyptian movies, young ladies with fluffy dresses could be seen riding bikes without fear of endangering their safety.
Nowadays, with increased sexual harassment and a fall-back to old traditions, this scene has now faded into Egypt's grey streets, congested with cars and motorcycles driven by males only.
Breaking the rules, Shaima Ali, a 30-year-old veiled English teacher in Alexandria, launched a new campaign called "let's scoot" in Alexandria using scooters as daily transportation method.
Speaking to Egypt independent, Ali says she has been ridding the scooter for three years. It started when her sister spoke about the idea and she was completely amazed at the convenience of riding one, especially since she used to waste hours stuck everyday in traffic.
Ali recalled, "In the beginning I used my sister's one, it was very easy to ride and so amusing, after a while I bought a new one for myself,"
She continued, "I joined 'Alex Scooter Club', a Facebook group that includes all scooter drivers in Alexandria; it was fun when we organized a constant weekly ride around the Corniche, but after a while I decided to use the scooter as a daily transportation instead of wasting hundreds every month in filling my car's tank."
Ali's father completely welcomed the idea especially he has been living abroad for a long time, so the scene of a girl driving scoter was so familiar.
"I did not feel ashamed once," she said. "I used the scooter because it's an easy transportation method and environmentally friendly, not to twist the community's arm or for men resemblance, especially I'm well-dressed in decent clothes."
As a member of the Alex Scooter Club, Ali noticed a modest number of females on the group. She discussed the idea of encouraging more women to ride scooters; some of whom were concerned with the idea, while others were enthusiastic to learn them.
She started a new project go teach girls how to ride scooters, dubbing it the Let's Scoot campaign. "The first group was surprisingly ten girls which was the cherry on the top," she said. "After a while I found many parents drop by to teach their girls and young boys, which was very awesome."
Speaking of people's reactions was the surprise, Ali said that before riding the scooter like many girls she was a bit concerned of people's criticism, but the opposite happened.
"We were on cloud nine when we find the microbus and taxi drivers were so helpful to ride safely by giving extra space in the street; while old people were supportive and sometimes were clapping to us if there is a carnival," Ali said with a smile.
The most interesting thing when Ali found the worker in the station gas that used to fill her tank bought a scooter saying, "You encouraged me to do that, I loved the idea."
"I was more than pleased because I found you don't necessarily need to talk to people to change their beliefs, it could be changed by acts," she said.
Similar experience in Cairo
Ali was not the only one to break down these barriers, as Bassma al-Gabry, a 21-year-old veiled English commerce student from Heliopolis, had a similar experience in Cairo.
Gabry started one year ago when her interest in buying a scooter peaked, but she caved to her family's refusal and criticism, as they were not completely persuaded by the idea, especially since she had no idea with how to ride one. "But I insisted and after a while, I learned and they agreed," she said.
Gabry loved the idea of the scooter because she was not familiar with driving cars in overcrowded Cairo streets, and driving a scooters was much more interesting and fun for her. So far, she has clocked in 4,500 km into her scooter.
"On one side, cars consume and waste huge amount of fuel compared to very little amount consumed by the scooter. For instance my sister pays LE110 each time she fills her car's tank, but I pay LE15," she said.
After Gabry gave it a try she found it was very easy to ride and the fastest method of transportation, encouraging her to create a Facebook group called "Girls Go Wheel". She conducted many surveys along with the group members who were debating the "unfamiliar" concept.
"After six months of discussion I succeeded to form a team of three girls and five boys who are genuinely loved the idea and we started to teach whoever interested for free," Gabry said.
Echoing Ali's experience, Gabry said that they have never faced any racist comments or criticism among people; especially the old people in the streets that encouraged them.
"I can remember when an old aged woman stopped by and with a deep sadness said that she unfortunately has to be very strict to her daughters as a way of safeguarding them, but when she was in their age she used to ride bikes wearing dresses," she said.
"I told her that riding scooter is much safer than riding other crowded transportation methods full of sexual harassments, however anyone should acknowledge that in Egypt if you are walking in the streets, you'll be harassed."
Gabry faces some issues with drivers of four-wheel vehicles. "Due to wrong stereotypes, they have the wrong perception towards anyone who drives a two-wheel motor vehicle," she said. "They are very worried about getting scratches on their own cars."
Not only for personal sake, Gabry argues that the Youth Ministry should encourage the idea of replacing cars with scooters to lighten the fuel shortfall crisis and hopefully even create lanes for scooters.