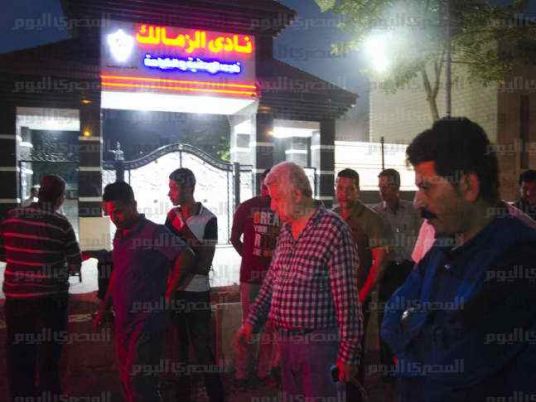 Based on the real-life insults taken from the head of the Zamalek Club's Mortada Mansour, an entertainment website called "The Glocal" launched a new feature entitled
Sheteema (insulting) Machine
, which provides everyone with "a Mansour insult" if wanted.
As a newly elected parliamentarian, Mansour is well-known for his controversial statements and harsh verbal criticisms toward public figures, which have sometimes led to lawsuits.
The Egyptian Chamber of Audiovisual Media Industry (CAMI) recently banned Mansour from appearing on any of its TV channels after the Zamalek Club president had a verbal altercation with TV presenter Lamis Al-Hadidi.
The Press Syndicate then banned coverage of any news about Mansour in all newspapers and news websites when he verbally attacked a syndicate member.
Do you feel left out that Mansour hasn't gotten around to abusing you or your friends? Then you should probably give this a try. Go to
theglocal.com
, enter your name and gender and you will receive a personalized insult from the database created around Mansour's famous verbal taunts.
The feature, in truth, does not stray too far from the
Trump Generator,
an entertainment website which provides you and your friends with insults made by Republican presidential candidate Donald Trump.
'Comic entertainment'
Speaking to Egypt Independent, Leila Tapozada, Glocal's creative director and editor-in-chief, said the website posts a unique mix of local and global entertainment, as well as trending topics.
Tapozada added that the website posts relatable and shareable articles, videos, memes and out-of-the-box creative ideas and the Mansour Sheteema Machine is one of them.
"We launched this feature on November 29th, 2015; our users thought the Mortada Mansour Sheteema Machine was hilarious; it was something that no one in Egypt has done before and Mortada himself offers so much comic entertainment," said Tapozada.
People who have shared the Sheteema machine and tagged their friends have posted numerous comments on the website, such as "this is beyond creative" and "this made my day!"
On the other hand, the website also received critical feedback, with some people posting "oh please, he is a respectable person".
"[This] of course just makes it funnier," said Tapozada.
Commenting on whether the website's staff is concerned that Mansour would sue them, Tapozada said, "We're not afraid of Mansour suing us, because every single 'sheteema' we used in our machine, he actually said in real life, in public."
Tapozada stressed that the website's research team has video proof of Mansour saying every single statement publicly. "We just let users have the fun of directing the insults to themselves or their friends," she said.