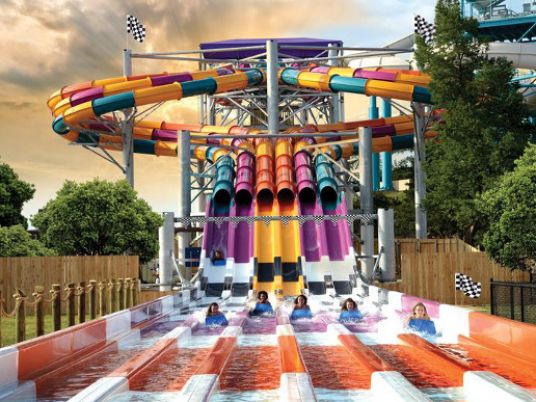 The world's largest, multi-lane water slide is set to open next year in the United States, sending thrill seekers careening down toboggans at speeds of up to 40 ft per sec (12.2m per sec).
Standing 60 feet tall (18m), the Six Flags franchise will add another multi-lane Wahoo Racer – the largest of its kind in the world – to their Six Flags White Water location in Marietta, Georgia, when it opens in May.
The record for tallest water slide goes to the Verruckt at the Schlitterbahn Waterpark in Kansas City, with its 168ft (51m) drop.
At the Six Flags location, thrill seekers will barrel down six aerodynamic toboggan slides set side by side on two-tiered mat sliders that twist and turn before stretching out into track-style sprinting lanes.
Here are a few more highly anticipated attractions to look forward to in 2016:
The Wizarding World of Harry Potter, Universal Studios Hollywood
Harry Potter fans on the West Coast (US) will get their version of the popular theme park attraction when it opens in spring 2016 at Universal Studios Hollywood. Like its sister site in Orlando, the park in California will recreate the magical world of Hogwarts, with the addition of an amped up version of theHarry Potter and the Forbidden Journey ride which will feature 3D technology.
Frozen Ever After, Walt Disney World, Epcot
Guests of the ride will be taken to the wintry setting of Arendelle, where they will visit Queen Elsa's ice palace, the North Mountain and the Bay of Arendelle in a Viking boat, set to the film's soundtrack.
Stark Expo, Hong Kong Disneyland's Tomorrowland
When it opens in 2016, the Stark Expo at Hong Kong Disneyland's Tomorrowland will become the first Disney attraction based on a Marvel character. The expo will feature life-like replicas of varying stages of Iron Man suits and bring other Stark innovations and the man himself to life, as visitors will be able to take photos with Iron Man. The ride, set in the streets and skies of Hong Kong, will allow guests to take flight with the superhero.