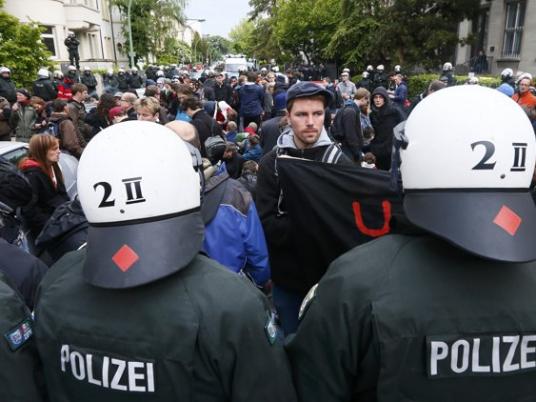 This year's record refugee influx will bring sweeping social, demographic and economic change to Germany, which was long uncomfortable about being known as a country of migrants, analysts say.
Europe's top economy is expecting to welcome 800,000 asylum seekers this year, almost double the previous high in 1992, when it took in 438,000 refugees from the war-torn former Yugoslavia.
And for the next few years, Vice Chancellor Sigmar Gabriel has predicted, Germany could take in 500,000 more annually.
Chancellor Angela Merkel has said that "what we are experiencing now is something that we will be dealing with for years and which will change our country in coming years".
Meinhard Miegel, a social science researcher, said it was "difficult to predict if the process will be a boon or a bane."
But it was certain that Germans who "want to cling on to the world they are used to will have to take into account the changes and should expect to agonize" over the transformation, he told public broadcaster ARD.
Hajo Funke, political scientist at Berlin's Free University, acknowledged that "when you have such an influx of people… it's a major challenge".
Education systems, for instance, would have to be adapted, be it in school admission criteria for migrants, or the entire education process, he said.
After all, a migrant crisis of this scale is unprecedented for the continent.
'Integration through the job market'
"We have never had such a situation in Europe … therefore we will have to experiment," said Miegel.
He compared the crisis with that of post-World War II Germany, when 12 million ethnic Germans were expelled from eastern European countries and arrived in a country in ruins where they had never lived.
"Major efforts were made to integrate them," Miegel said. "However, what helped was that they shared the same cultural background and spoke the same language."
That is however not the case for refugees coming from Syria and Iraq today, most of whom speak no German.
Nevertheless the refugees could eventually play an important part in revitalizing Germany's ageing population and plugging key gaps in its workforce, say experts.
The German population, with a very low birth rate, is expected to drop to 70 million from 81 million by 2060, and the government's obsession with balancing the budget stems partly from the nagging thought it will become more difficult to finance the pension system in coming years.
The migrants are also a precious source of labor for industry, which has been complaining of a shortage of workers.
Business leaders have spoken up in recent months for refugees to be given swift access to training and jobs.
"Integration in Germany has always worked through the job market" and on this point the country has a good record, said Orkan Koesemen, a migration expert at think-tank the Bertelsmann Foundation.
'Opportunities, not risks'
For Koesemen, Germany has already undergone a transformation in recent years.
"Germany, which said 10 years ago that 'we are not a country of immigration' has become a country that says 'we draw our strength from that'. That's a change," he said.
One in five people in the country are of foreign origin, as Germany has absorbed several waves of immigration since World War II, including from Turkey, the former Yugoslavia and Iran, said Koesemen.
He warned however that on issues of immigration, "we reap what we sow".
"If the subject is debated publicly in a positive manner, we will get good results. But if the debate goes the other way — if we show a negative image to the refugees — the situation could become more complex."
Merkel in a parliamentary speech Wednesday urged a swift integration of the newcomers, while also warning migrants to abide by German rules.
"We should learn from the experience of the 1960s, when we invited guest workers here, and from the very start gave the biggest priority to integration," she said, referring to waves of laborers who came to post-war Germany, especially from Turkey.
At the same time, she said, "we must make clear which rules apply here, and we should not watch on if certain communities turn inward and reject integration or build parallel societies".
If the new arrivals are integrated quickly and well into the workforce or schools, they could "present more opportunities than risks", said Merkel.