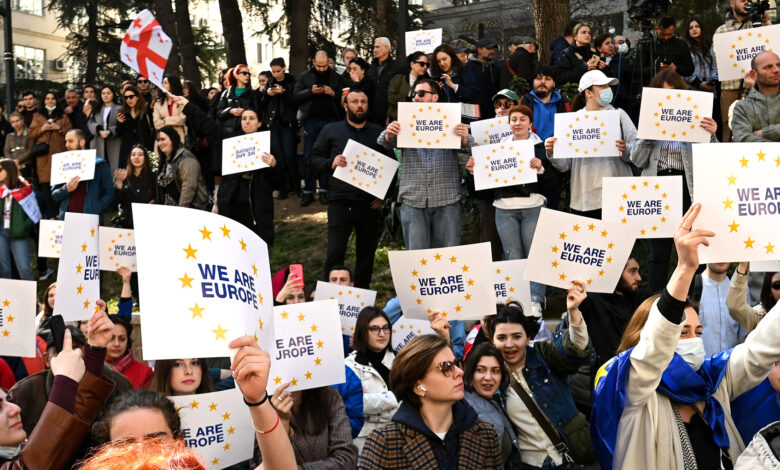 Thousands protested in Tbilisi for two nights, prompting Georgia's parliament to formally revoked a controversial "foreign influence" bill on Friday. There were concerns that it resembled Russian laws used to stifle political dissent.
Here's what you need to know:
Bills spark protest: Lawmakers were discussing two bills, according to Giorgi Gogia, associate director of the Europe and Central Asia Division at Human Rights Watch.
The first bill would have required organizations including non-governmental groups and print, online and broadcast media to register as "foreign agents" if they receive 20% or more of their annual income from abroad. The second expanded the scope of "agents of foreign influence" to include individuals and increases the penalties for failure to comply from fines to up to five years in prison.
Advocates of the laws said they would help root out those working against Georgia's interests, Reuters reported. Human Rights Watch's Gogia said the bills would "threaten to marginalize and discredit critical voices in the country."
Russia-aligned Belarus has had a citizenship law in place since 2002 that has a similar impact.
The President of Georgia, Salome Zourabichvili, posted a video message on Facebook, expressing concerns that the bills could impede the country's hopes of closer ties with the European Union. She threw her support behind the protesters and pledged to veto.
Protests erupt: Thousands of protesters could be seen outside the parliament building on for two nights, holding not just the Georgian flag but also European Union flags.
Some threw stones and petrol bombs, as security forces responded with tear gas and water cannon. Video posted on social media also showed protesters storming a barricade at the entrance to the parliament building and tearing it down. At least 76 people have been arrested in connection to the protests.
Protesters' chants, with insults aimed at both Georgian politicians and Russian President Vladimir Putin, underline fears that the bill follows the model of a controversial law in neighboring Russia that has already imposed draconian restrictions and requirements on organizations and individuals with foreign ties.
Georgia was part of Soviet Union and today, it hopes to integrate with the EU: Georgia won its independence from the Soviet Union in 1991, and has since sought to strike a diplomatic balance between its citizens' pro-European stance and the geopolitical ambitions of its powerful neighbor, Russia.
Georgia applied for EU membership in March 2022. Though it was not granted candidacy status, the European Council has expressed readiness to grant that status if Georgia implements certain reforms.
Comparisons with Ukraine: The think tank European Council on Foreign Relations (ECFR) drew comparisons between the situation in Georgia and Russia's invasions of Ukraine in 2014 and 2022.
Former Russian President Dmitry Medvedev said in 2011 that had Russia not invaded Georgia in 2008, NATO would have expanded into Georgia.
The 2008 conflict centered on South Ossetia and Abkhazia, which are two provinces that are officially part of Georgia, but they have separate governments propped up by Russia and unrecognized by most countries.
The 2008 invasion of Georgia only lasted days, but it appeared to have the same revanchist ambitions that drove Putin's invasions of Ukraine in 2014 and last year, writes the ECFR.
Where things stand now: Georgian lawmakers voted against the bill in its second reading by a margin of 35 to one, according to Georgia's public broadcaster First Channel, and this formally revoked the controversial bill that sparked the protests.
CNN's Katharina Krebs, Jorge Engels, Rhea Mogul, Sophie Tanno, Niamh Kennedy, Hannah Ritchie and Sana Noor Haq contributed reporting.