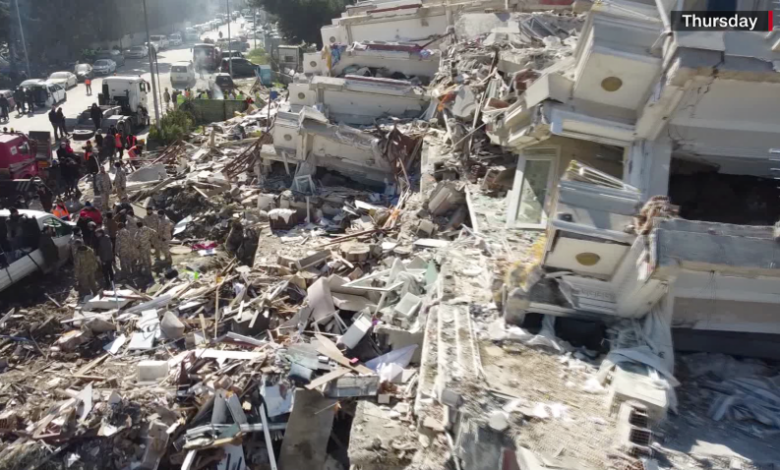 A call with Iraqi geologist at the College of Science at the University of Baghdad, Salih Mohamed Awad, on Sunday evening on Sada al-Balad channel discussed how earthquakes occur and why – and warned of yet more devastating ones in the future.
Awad predicted that another major earthquake could occur soon, explaining that the globe rotates very quickly and when any other planet approaches it, its rotation movement decreases which causes earth plates to move.
The earth;s voltage is expected to increase on February 27 and 28 as a result of the planets and the moon approaching the earth, he said, causing more earthquakes to occur.
He warned that from February 20 to 27, the moon will enter between the earth and the sun, and Mars will approach the earth, therefore there will be an excess voltage on Earth possibly leading to a major earthquake.
Awad explained that anticipating any earthquake is difficult, but there is a high probability of predicting the occurrence of an earthquake. When the planets approach the earth, the gravitational potential may increase in a specific area and thus reduce its movement around itself or around the sun and causes tectonic plates to slide,  leading to an earthquake.
A professor of earthquakes at the National Research Institute of Astronomy and Geophysics (NRIAG) Salah al-Hadidy said that no country in the world is immune from earthquakes, as every day earthquakes are recorded in various parts of the world, including Egypt, but are of weak strength.
In a telephone interview on the Extra News channel, he assured that Egypt is located in an area that is not exposed to devastating earthquakes, but is still at risk of earthquakes at medium strength.

Attempts to predict the occurrence of earthquakes have so far failed, he added, and any earthquakes in Egypt are not expected to reach the destructive levels seen in Turkey and Syria.
Waves of earthquakes
Earthquakes have increased in frequency and intensity over weeks, the most devastating of which struck Turkey and Syria.
On Monday, the European-Mediterranean Seismological Centre (EMSC) recorded an earthquake measuring 4.5 on the Richter scale off the coast of the Italian island of Sicily.
The earthquake in Italy occurred at 01:11 am, and its epicenter was located at a depth of 17 km, 94 km northeast of Palermo, according to Russia Today.
An earthquake measuring five degrees on the Richter scale, also occurred, on Monday, in the Maluku Sea, located in the western Pacific Ocean in Indonesia.
The EMSC reported that the epicenter of the earthquake occurred at a depth of 77 kilometers, at the confluence of 43.2 degrees north latitude and 10.126 degrees east longitude. There were no reports of human or material losses as a result.
It announced on Monday an earthquake measuring 5.5 degrees on the Richter scale in central Turkey.