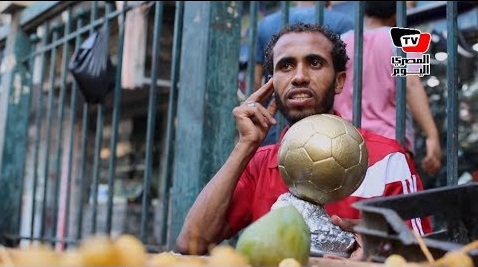 Tariq Ahmed Ali was ranked the worlds best deaf soccer player in 2016, even appearing on a billboard for a mobile phone company service, yet despite the acclaim Tariq Ahmed Ali, also known as Tariq al-Gazzar, is now working as a street vendor selling fruits to pedestrians in Giza Square.
Gazzar, 32, holds a certificate of technical education from his hometown Assiut, where he began his career playing in the street.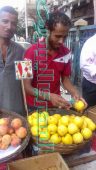 "Someone in the crowd saw me, and asked about my hearing ability, after he found the earphone string in my ear, he told me that there is a club called Al-Walidiyah and that I can join it to play in the Premier League (B) for the deaf, and I went there and I did well, and a year later the team rose from the Premier League (B) for the deaf to the Premier League (A)," Gazzar said.
He improved upon his talent under the leadership of Captain Fouad Abdul Hamid, the technical manager of the team, and Captain Ahmed Abdul Nabi, the administrative director.
Gazzar and the Egyptian national team proved to be a good fit. "For the first time in the history of Egypt, we qualified for the 2012 World Cup for the deaf in Turkey. We achieved great success. We won second place and I was nominated for the best player award, but I did not get it," he said.
Gazzar said, "We told al-Amery Farouk, the former minister of youth and sports, about our success, and he awarded LE5,000 to each player, but we objected to that, and we went to the ministry until the amount was raised to LE12,000 for each player."
At the 2016 World Cup for mute and deaf in Italy, Gazzar managed to win the World Player award of the year. "The prize is equal to that won by famous players Ronaldo and Messi," he explained.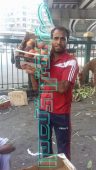 No matter their talent the league was not held in the same financial regard as their counterparts. "As usual, we demanded, and the reply was: there is no bylaw for your team within the ministry. This was under the current (youth and sports) minister, Khalid Abdel Aziz, and we only got LE30,000 for each player, and I received a reward of LE10,000, for winning the best player's award," Gazzar said.
Gazzar explained that the bylaws of the Sports and Youth Ministry do not have articles for deaf players, and just define these athletes as disabled.
Therefore the soccer team for the deaf is always ignored when it comes to awards, even by government officials.
The former star says that they won the bronze medal in this year's Deaflympic Games in Samsun, Turkey, but were not assigned as much as a traveling physician for the team. After returning from a win the team was denied any kind of reward.
"We need the Ministry of Youth and Sports to deal with us as either disabled or normal players. We do not know why there is all this laziness and we always wonder whether we are playing for another team other than Egypt, do they not want to encourage us? Or is it that the deaf have become a great burden on the state and want to frustrate them and get rid of them?" Gazzar said in exasperation.
After this victory, Gazzar was offered a part in an advertising campaign, "they paid me LE10,000, and my friends told me that I should not have agreed to that small sum, but I needed to take this step, hoping to get people to recognize me, but the plan was not successful in the end, and no one knew me."
He said that the government offered him a public janitor job at LE20 per day without a contract. "I did not accept and preferred, to sell fruits in the street," he said, adding,"My colleagues on the team are not very different in their situations. There is one that works at a Ta'amia (Egyptian falafel) restaurant, another works as construction worker, and one works in a laundry service."
Gazzar earns LE1,400 monthly and he refuses to leave Egypt to take another country's nationality and play for their team. "There was a colleague on the team, Amr Wajdi, who was naturalized and now plays for the Greek team for the deaf, and has achieved great success with them," He said.
The former player received an offer from Arsenal's English Club for the deaf, but it did not go through. "This period I received an offer from a Spanish club and it's still there. There's communication between me and the club," he said.
Gazzar has not experienced his journey alone, he married with two kids. He and his wife live with his brother in the Marg area of Cairo, while his kids live with the family in Assiut. He says he has a dream to have an apartment of his own and a simple car.
The resilient athlete has not let his struggle diminish the adoration he feels for his country.
"We love Egypt, but Egypt does not see us. And when we leave (the country) they say why did you leave? So what is there to do? I just want a kiosk where I sell drinks and sweets, so my brothers and I can work and I will be completely satisfied. "
Edited Translation from Al-Masry Al-Youm