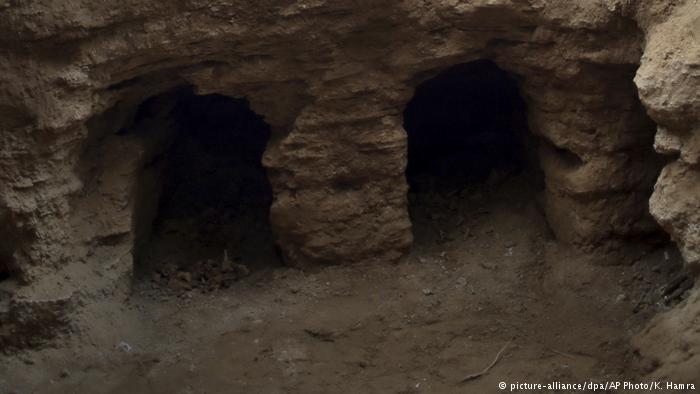 An ancient burial complex consisting of nine graves has been found in a Gaza Strip garden after flash-flooding uncovered access to a hidden staircase.
Abdelkarim al-Kafarna, 24, who lives in the Beit Hanoun district, said he found the graves on Friday while trying to establish where water was running into the earth after heavy rains this week.
"I discovered the place where the water was falling in," he told AFP news agency, saying he had lifted a stone and found steps leading down into the ancient tomb, some four meters (13 feet) below the ground.
He said some of the graves contained bones, along with votive lamps and other pottery.
Neglected legacy
Local archaeologists believe the site dates back some 2,000 years to the time when the territory was part of the Roman Empire.
"The burial and excavation methods in this tomb date it back to the Roman period, but it may have continued in use into the early Byzantine period," Gaza-based archaeologist Ayman Hassouna said.
Gaza was a busy port during the Roman and early Byzantine periods, but much of the area's archaeological legacy has so far been neglected owing to urban sprawl and the Middle East conflict.
The area, near the Israeli border, where the graves were found suffered intensive bombardment during the seven-week conflict between Palestinian militants and the Israeli army in 2014.