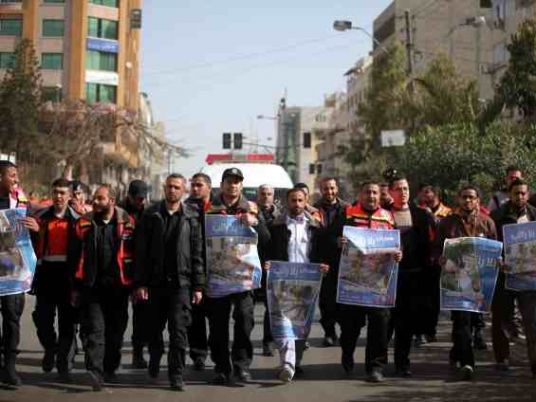 Labor Day no longer represents an important occasion for Palestinian civil servant Khaled Salama.
Salama is one of thousands of civil servants appointed by the Palestinian Authority (PA), who were barred from going to work in Hamas-controlled ministries since the Islamist group seized control of the Gaza Strip in 2007.
However, those employees are still being paid by the Ramallah-based authority.
"I feel as if I have become without any real value," Salama, 42, an accountant, told The Anadolu Agency.
"I have not gone to work for eight years now," he added.
Like thousands of civil servants, Salama was ordered by the PA not to go to work since Hamas seized control of Gaza after routing rival Fatah group of PA President Mahmoud Abbas.
"We are unemployed civil servants," Salama said.
The father of six hopes that Hamas and Fatah, which controls the occupied West Bank, would reach reconciliation so that he and other civil servants could go back to work.
In April of last year, the two factions hammered out a reconciliation deal, one that opened the door for the formation of a national unity government.
Nevertheless, the deal remains to be mere ink on paper, while the unity government has failed to take responsibility for the Gaza Strip.
Untapped energies
Sueheir al-Rayes, a schoolteacher, finds no reason to celebrate Labor Day.
"Palestinian divisions have persisted for so long," al-Rayes, 39, told AA. "There is no reason for me to celebrate Labor Day. It is not for people like me," she added.
Labor Day is often marked by rallies and marches staged by workers to demand better work conditions and higher pay.
However, in the Gaza Strip, which has been blockaded by Israel since Hamas took control of it in 2007, workers are in need of psychiatric rehabilitation, according to Ahmed Ashour, an engineer.
"Though I'm still young, I feel I have reached the retirement age," Ashour, 34, said.
He said some of Gaza's civil servants would find it difficult to go back to work after these long years of idleness.
"We continue to receive our salaries from the Palestinian Authority, while we do not do any type of work," he added.
The PA pays the salaries of its 55,000 workers in the Gaza Strip. At the same time, it asks them not to go to work, especially after Hamas controlled the Gaza Strip.
-Sorrow-
There is no official estimate of the number of civil servants who abstain from going to work in the Gaza Strip.
Nevertheless, some officials put the number at 15,000, saying most of those workers belonged to security and military agencies in Gaza in addition to hundreds of schoolteachers and doctors.
Medical doctor Anwar Sobeih feels sorry for doing nothing.
"Our social life has changed, not only the economy," Sobeih, 42, said.
"We do not add any value, not to mention the psychological problems caused by our long stay at home," he added.
A Palestinian newspaper quoted a European official on Thursday that the European Union had told the PA that it would not be able to maintain its financial support – through which the authority pays the salaries of its civil servants – if these civil servants continued to stay at home.