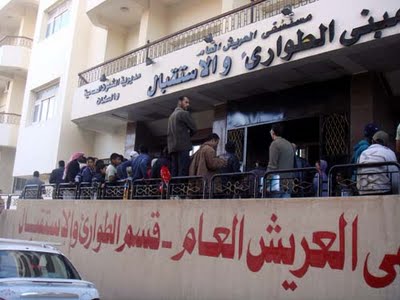 Unknown gunmen shot a former parliamentarian in Arish, North Sinai, early Wednesday as sporadic outbreaks of violence continue on the restive Egyptian peninsula in the wake of Mohamed Morsy's overthrow.
Abdel Hamid al-Salami, a former Shura Council member from the dissolved National Democratic Party (NDP), was shot dead on his way out of a mosque in Fawakhreya following dawn prayer. He later died at Arish Central Hospital.
The NDP was former President Hosni Mubarak's political party, which dominated Egypt for 30 years until the 25 January revolution in 2011. It was dissolved shortly afterwards.
A security source said the victim sustained three bullet wounds in his head and chest.
The source added that investigations are underway, although the perpetrators had not been identified.
Enraged by his murder, a number of Salami's acquaintances smashed a sit-in stage erected by supporters of deposed President Mohamed Morsy outside al-Nasr Mosque in the city.
As of 30 July, the deadly attacks in Sinai left at least 30 police, army soldiers; and civilians dead.
Edited translation from Al-Masry Al-Youm