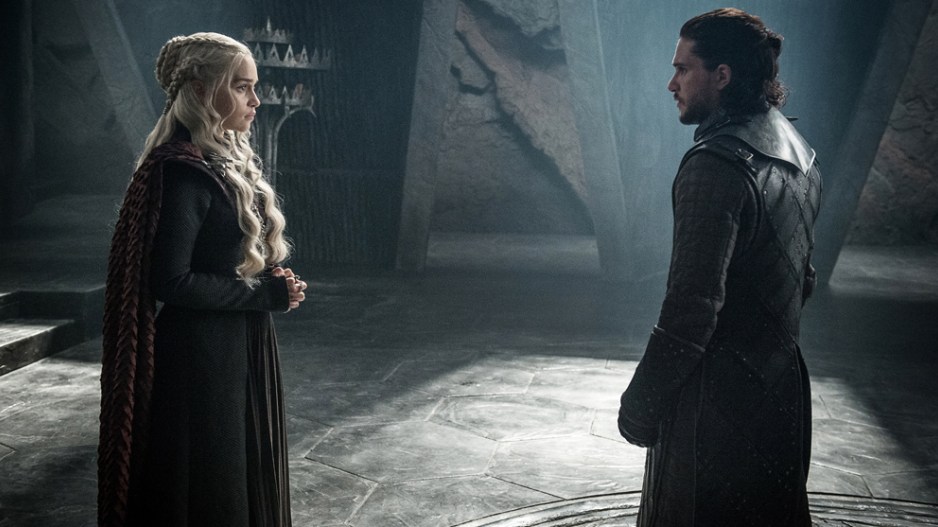 After decades of waiting, "Game of Thrones" finally put two of the most important characters in the series in the same room.
Jon Snow and Daenerys Targaryen came face to face on Sunday night's episode of the HBO fantasy series giving fans a meeting that some have been waiting for since George R.R. Martin's book, "A Game of Thrones" was published in 1996.
Snow, played by Kit Harington, walked onto the island of Dragonstone on Sunday's episode to meet Daenerys, played by Emilia Clarke, for the first time.
Fans on social media couldn't contain their excitement.
"I FEEL ALIVE!!!" Jarett Wieselman, a senior entertainment editor for BuzzFeed News, tweeted alongside a photo of the two characters.
For some, Daenerys and Snow represent the entire series itself.
Martin named the book saga, "The Song of Ice and Fire," and many fans feel that the two characters represent those elements with the northern Snow being ice and the dragon riding Daenerys being fire.
Sunday's meeting saw Daenerys request that Snow bend the knee to show his alliance to her as the rightful queen of Westeros.
Alas, Snow had other plans.
"I need your help and you need mine," Snow said, telling Daenerys he needs her to help fight off the coming threat of Whitewalkers — a horde of undead.
Away from the tense back and forth, some online found it funny that Daenerys proclaimed herself to be the "last Targaryen" — an ironic statement since fans found out last season that Snow himself has Targaryen blood.
Ultimately Daenerys didn't allow Snow to leave the island, which gave viewers more time between the two as well as some great scenes between Harington and another fan favorite, Peter Dinklage's Tyrion Lannister.
The meeting of the two characters came to a close on Sunday with Daenerys allowing Snow to mine dragonglass, a rare element, from the island in order to use it as weapons against the impending threat of Whitewalkers.
However, the previews for next week's episode showed that while this was the first encounter of Snow and Daenerys, it won't be the last.