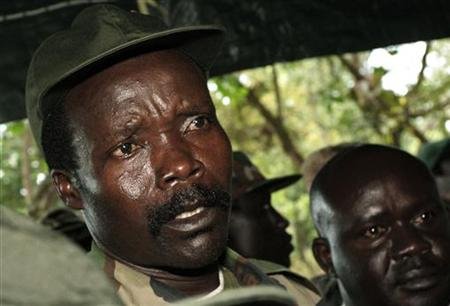 Fugitive rebel warlord Joseph Kony is operating in volatile border areas between Sudan and South Sudan, as well as the Central African Republic, Uganda's army chief said Monday.
Kony, originally from Uganda, is based in remote regions between CAR, South Sudan's Western Bahr el-Ghazal state and Sudan's South Darfur state, said Aronda Nyakairima, Uganda's chief of defense forces.
"The last intelligence that they got from someone who surrendered indicated that Kony was somewhere in western Bahr-el-Ghazal at a point where the triangular borders meet," Nyakairima said.
Uganda is leading an African Union force in the hunt for the head of the Lord's Resistance Army rebels, a force notorious for a grim campaign of rape, mutilation and murder.
The AU force — supported by US special forces — is mandated to hunt Kony across Uganda, the Democratic Republic of Congo, the Central African Republic and South Sudan, but does not have permission to cross into Sudan's territory.
Nyakairima said that Khartoum had armed the LRA and given the brutal rebel group sanctuary prior to 2002, a move widely seen as retaliation for Uganda's backing of southern rebels battling the Sudanese government.
However, Nyakairima said that although new uniforms of the Sudanese Armed Forces had been discovered with the rebels, there was no concrete proof Khartoum was still supporting or arming the LRA.
"We know that area has Khartoum forces deployed in Southern Darfur. … We have not come across a rifle or a bomb, but certainly we came across brand new uniforms," Nyakairima said.
However, the uniforms could have been stolen or taken from dead soldiers, Nyakairima added.
The border between Sudan and South Sudan is un-demarcated, a remote area where several armed groups are believed to operate, including both Sudanese Darfur rebels fighting the government and pro-Khartoum militia forces.
Kony, wanted by the International Criminal Court on war crimes charges, drew world attention last month after an Internet film by US-based advocacy group Invisible Children calling for him to be caught was watched by tens of millions of people.
Sudan on Sunday declared a state of emergency along its border with South Sudan after month-long border clashes.