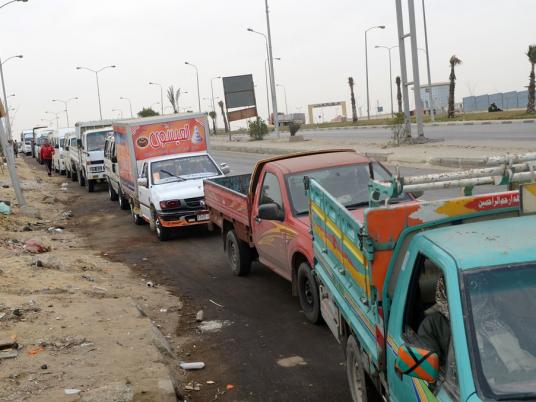 The shortage in 92-octane and 80-octane gasoline, which began one day before Eid al-Adha, has continued in Daqahlia, Sohag and Qena, causing some gas stations to close down.
The main gas stations located on the Mansoura-Manzala highway were overcrowded, causing congestion along the highway. Some gas stations closed after they ran out of fuel.
Under Secretary of the Supply Ministry in Daqahlia, Ibrahim al-Khayat, said, "There is no crisis. The cars are crowded at gas stations awaiting fuel tanks to fill the gas stations' tanks with fuel. The Daqahlia governorate has received its full share of fuel."
In Sohag, the fuel crisis continued in different areas throughout the governorate and vehicles queued up in long lines that stretched for hundreds of meters outside gas stations. Some roads were closed as a result of congestion and fights broke out between drivers who wanted to be first in line to filli their tanks.
Taxi drivers have raised the fare saying the price of a gasoline container rose to LE100 on the black market, while 1 liter reached LE5. The official price for 1 liter of gasoline is 160 piasters.
In Qena, a large number of drivers complained of a shortage in 80-octane gasoline. Many transport drivers have stopped working as a result and many gas stations have temporarily closed down.
There were also long lines of cars outside gas stations in Qena, with several fights occurring between drivers.
Salheen al-Behairy, director of the Supply Ministry Department in Nag Hammadi, said the crisis occurred because fuel tank drivers were on Eid holiday, which caused a shortage in the quantities of fuel supplied to gas stations.
Edited translation from Al-Masry Al-Youm