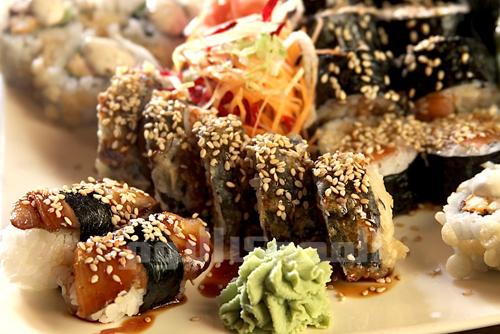 Fuego's all-you-can-eat sushi special is arguably the best roll-for-pound deal in town — but only if you're Japanese, a seasoned fish fiend or endowed with an insatiable gut.
Into its eighth month, the joint on Abul Feda Street in Zamalek, a smaller branch of the original 4-year-old Fuego in Maadi, offers unlimited sushi for LE140 per person on Mondays and Tuesdays and LE160 on other days (excluding a 12 percent added charge). First-comers to Fuego who ask for "a bit of everything" will likely be served a mixed bag of rolls heavy on rice and meager on meat that will fill them up before their second round. So read on, do some homework and brace yourself for a gastronomical survey of the open sea.
Browsing the menu can be a bit overwhelming: a rainbow of julienned vegetables fanning over the top of a seaweed starboard in the shape of a boat; bite-sized jewels in shades of pale pink and white normally reserved for French confectionaries; and unintelligible names for sushi preparations that look more like playthings. But knowing your nigiri from your sashimi and maki could make all the difference.
Sashimi: It's all about fish. These clean cuts of raw fish are pearls of pure seafood with no rice involved. At Fuego, sashimi is served on a bed of wakame (seaweed), radish and carrots, but is unfortunately unavailable on the all-you-can-eat offer. Restrictions on the promotion are printed on every table and exclude menu items with lobster or caviar as well as the pricier chef's special rolls, Bermuda rolls, appetizers, soups, salads and dessert. So what's left?
Here's what's game. Served one piece at a time, nigiri sushi is like sashimi, but enthroned on a pinch of rice. Our favorites included the katsu salmon, a slice of fried breaded salmon, and the unagi, fresh water eel — a delicacy grilled according to custom that tastes more like dark bits of poultry than fish. The tako (octopus) wasn't too bad, while the ika (squid) held a fleshy texture somewhere between stale and gummy, making it less than savory. With a menu price of LE10 for each sliver of unagi and LE9 for the salmon, you'll be glad you chose the unlimited fish fest.
Maki sushi: These sliced rolls of vinegary rice, seaweed and stuffing in different arrangements are what come to mind when one thinks of sushi. They make the cuisine a real art form. At Fuego, there are dozens to choose from. The standard hoso maki rolls are slim rolls of rice and seafood of choice wrapped with the nori, or seaweed, outside. They're decent but not worth the feast. Instead, stick to special ura makis ("inside-out sushi rolls" with the rice on the exterior). Worthy of belly space are the Green Dragon Roll, the Crispy Roll and the Fuego Crispy Roll.
The Green Dragon consists of shrimp tempura, unagi and avocado wrapped with boiled lettuce, laced with a tangy teriyaki sauce. The salty eel is tempered by the slight sweetness of battered shrimp and teriyaki sauce, and mellowed by the touch of creamy avocado. The Crispy Roll, like the Green Dragon, is a maki with shrimp tempura, avocado and teriyaki sauce but with a twist. The roll is sprinkled with crispy rice that gives it a crunch. Likewise, the Fuego Crispy Roll delivers a medley of flavors enveloped by a toasty crunch. The roll takes grilled sea bass and avocado and dots it with tempura flakes and a dollop of sesame mayonnaise.
Creativity peaks with Fuego's makis but is pushed beyond our palatable zone with its so-called Havana Roll. In it, unagi and avocado, as we have already suggested, pair quite well, and even the addition of mango might be suited to our taste buds — think ceviche or a mango salsa. But the fresh slice of kiwi on the Havana is just too much and knocks the roll off our list of recommendations.
Cream cheese and salmon are suggestive of New York lox and bagels or a Nordic platter. In sushi terms the marriage can be equally pleasant. The Hot Ura Maki at Fuego is a maki with your choice of salmon, tuna, shrimp or shrimp tempura layered generously with cream cheese and then deep fried. It's hard to believe that this is a Japanese invention because it isn't. Like the California Roll, the cheese and fish duo is a Western concoction that has inversely gained popularity in Japan. Fuego's rendition is too heavy on cream cheese, and, like its deep-fried Spider Roll (a shrimp and salmon roll topped with teriyaki), is saturated in oil swamping any trace of other ingredients. In lieu, sample the salmon Oshi Sushi, a cream cheese roll that dodges the deep fryer. One order is more than enough.
Tamaki: The hand-rolled cones are the most authentic item on the menu but fall in comparison to the more elaborate makis. We went with the shrimp tempura tamaki, fresh but loosely built and a messy handful. If impressing a date, steer clear and keep to the more elegant, one-bite, chopstick creations.
Take-away bags are not permitted at Fuego, so be sure to pace yourself, order in increments and fast hours beforehand. Upon entering, it's hard not to wonder, "Is this it?" The narrow, gray corridor flanked by compact booths and dark, granite tile is modern at best and, at first glance, hardly a sushi bar.
But a visit to the restroom at the end of the restaurant affords a glance of the tight counter where prep work is done. For a more formal dining experience complete with a Japanese grill, visit its Maadi location. But for quick service in an intimate setting and an all-you-can-eat special that really can't be beat, dive into Fuego in Zamalek and fish with discretion.
Fuego; Address: 35 Abul Feda St., Zamalek, Cairo; 010-6552-4467; Hours: Daily, 11 am–11 pm daily.