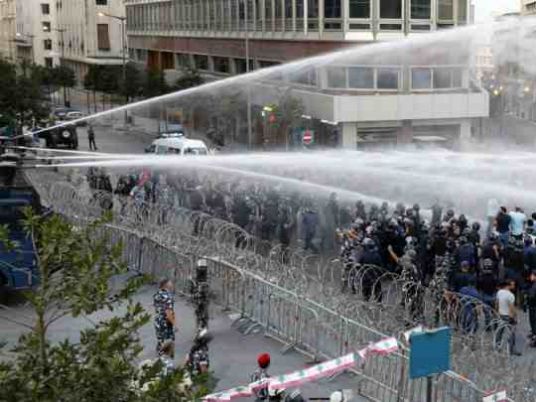 Lebanese protesters angry over a lack of basic services and festering garbage will return to the streets of Beirut Wednesday as party leaders meet hoping to end months of political gridlock.
Sparked by rubbish piling up in and around the capital, a collection of protest movements have called for demonstrations Wednesday in the city centre.
Authorities have beefed up security measures in central Beirut, erecting large metal barricades preventing access to the parliament where political figures are to meet.
Parliament speaker Nabih Berri, who also heads the largely Shiite Amal movement, had called for a "national dialogue" among main parties to discuss a stalemate that has frozen government institutions for months.
But various civil society groups called for a mass protest in Beirut to denounce corruption, saying they would not be deterred by an intense sandstorm that has claimed two lives in the country.
"Whatever the weather conditions, we will meet," the "You Stink" activist group said.
"It was a country… but it was turned into a massive landfill! Let's all take to the streets on Wednesday to pressure all the corrupted leaders," it said on Facebook.
By mid-morning some protesters had already gathered near parliament.
"We will stay until the end of the day to demand our rights," said one, 23-year-old Samar Mazeh.
– Electricity, water shortages –
The protest movement began in mid-July as pungent piles of garbage built up in Beirut and its environs after the closure of Lebanon's largest landfill.
But it has since grown to represent broader frustrations that cut across sectarian and partisan lines, including electricity and water shortages, and endemic corruption among the political elite.
Demonstrations in the capital grew from several dozen protesters to thousands, peaking when tens of thousands descended on Martyrs' Square on August 29.
Groups like "You Stink" and "We Want Accountability" are among a handful of civil society campaigns born out of the movement that have called for additional protests.
Parliament has extended its own mandate twice since the last elections in 2009. Political rivalries have paralysed the cabinet, formed in early 2014 on a caretaker basis.
– Government 'has no value' –
The cabinet has been so divided that it has failed more than two dozen times to elect a president since Michel Sleiman's term expired in May 2014.
Berri has said his call for dialogue Wednesday is an attempt to jump-start the work of these institutions.
But leading political figures warned of failure.
"This government is not able to respond to the demands of the Lebanese," said Sami Gemayel, head of the Christian Kataeb party, which is part of the pro-Western March 14 alliance.
Speaking at a press conference Tuesday, Gemayel said the first point of discussion for politicians Wednesday would be the election of a president.
"This cabinet was only supposed to last three months, if it weren?t for decisions by some people to leave this country without a president," he said.
"Either this government fulfills the plan it has set out (to solve the trash crisis)… or our presence in the government has no value, just like this government," Gemayel added.
Michel Aoun, head of the Free Patriotic Movement and the main Christian ally of Shiite group Hezbollah, said it would be a "total failure" if leading figures did not come to an agreement Wednesday.
"We will discuss the problems and we must be able to solve them justly. Otherwise, it will be a total failure," Aoun said at a separate press conference.
According to media reports, a ministerial commission had reached an agreement on the waste problem that included transferring trash management prerogatives to municipalities and establishing temporary landfills.
US Secretary of State John Kerry's office said on Tuesday that he had called Lebanon's Prime Minister Tammam Salam and "reaffirmed America's strong and continuing support for… efforts to advance political consensus despite the challenging circumstances facing the country."
by Maya Gebeily