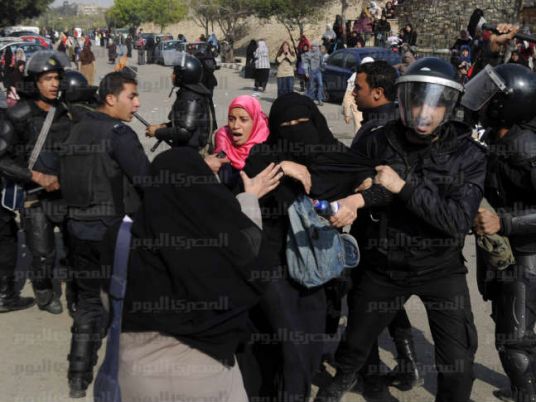 US-based human rights organization Freedom House says that as part of a decline in global freedoms in 2014, Egypt's President Abdel Fattah al-Sisi has contributed to reversing what it described as "democratic gains."
In its
report
, Freedom in the World 2015, the organization said, "More aggressive tactics by authoritarian regimes and an upsurge in terrorist attacks contributed to a disturbing decline in global freedom in 2014," adding that its report had found "an overall drop in freedom for the ninth consecutive year."
Of the 195 countries assessed, 89 (46 percent) were rated 'free', 55 (28 percent) 'partly free', and 51 (26 percent) 'not free', including Egypt, which obtained a total freedom score of 5.5 (political freedoms: 6, and civil liberties: 5). Egypt's total score marks a downturn from 2013's score of 5.
"Acceptance of democracy as the world's dominant form of government — and of an international system built on democratic ideals — is under greater threat than at any other point in the last 25 years," said Arch Puddington, vice president for research.
In Egypt's case, the report said it "received a downward trend arrow due to the complete marginalization of the opposition, state surveillance of electronic communications, public exhortations to report critics of the government to the authorities, and the mass trials and unjustified imprisonment of members of the Muslim Brotherhood."
The report cited, among other facts, death sentences issued for 1,300 people in trials that lacked "the most basic elements of due process" as evidence to the decline of freedoms and democracy under President Sisi.
It cited, meanwhile, the acquittal of former president Hosni Mubarak over charges of killing protesters during the 2011 uprising against his rule as proof to Egypt's return to autocratic rule.
"Egypt solidified its return to autocracy with sham elections, summary mass trials and a crackdown on all forms of dissent," added the report, saying that Sisi's government reinforced military clout as the supreme force in society.
Egyptian authorities have recently been met with fierce criticism from the opposition for the death of at least 20 protesters during encounters with police on the fourth anniversary of the 2011 uprising on Sunday.
Thousands have been detained and sentenced to jail over the past year for breaking a law enacted by the former interim government which required prior security permission for staging demonstrations.
Concerning the Middle East region in general, the report singled out Tunisia as the the only free state. Its diagrams showed 72 percent of the region's countries as included under the 'not free' category, with 85 percent of its population categorized as living in such countries.