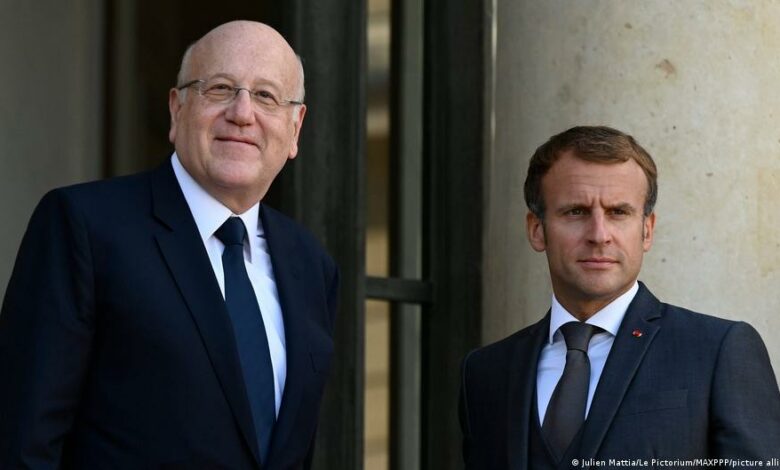 France's President Emmanuel Macron on Friday welcomed the new Lebanese Prime Minister Najib Mikati on his first foreign trip since taking office.
Mikati's trip to Paris came just days after his Cabinet was confirmed by parliament, ending a 13-month political deadlock.
What did Macron say?
Macron said Lebanon faces a "humanitarian emergency" and pledged to help in efforts to "mobilize the international community to respond to the most urgent needs."
"We have an opportunity to advance concretely on the path of reforms," he said. "We are here. France will remain at the side of the Lebanese people."
Macron also urged Lebanon to swiftly start talks with the International Monetary Fund (IMF) to negotiate a recovery package, a priority for the new Cabinet.
Negotiations with the IMF had stalled last summer when key Lebanese political figures turned against a financial recovery plan drawn up by the previous government.
The French president also said that the Lebanese population had "a right to know the truth" about the August 2020 blast in Beirut.
What did Mikati say?
"I assured [Macron] of my determination to implement as soon as possible…  the necessary and imminent reforms to regain confidence and give back hope to reduce the suffering of the Lebanese people," Mikati said, speaking in French.
Mikati said Beirut will be counting on France's backing during the IMF talks.
The new Lebanese Cabinet is expected to undertake critically needed reforms amid rising public anger.
Lebanon is battling an economic crisis that the World Bank has described as one of the deepest depressions of modern history.