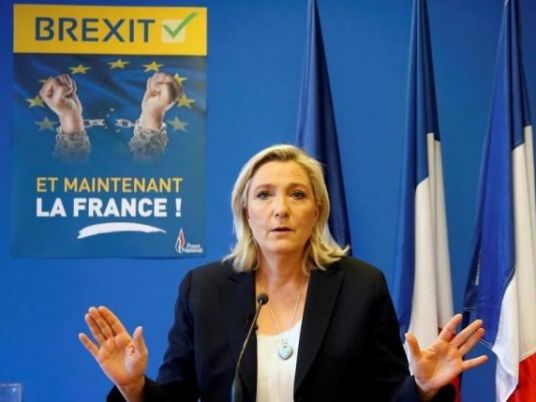 Far-right National Front party leader Marine Le Pen on Saturday said she was eager for France's presidential election campaign to start, portraying herself as the "candidate of the people" and mocking her opponents' primaries as cockfights.
Opinion polls consistently show the anti-immigration, anti-EU Le Pen making it to the second round of the 2017 election. Her ratings have been boosted by worries over Europe's refugee crisis and concerns over Islamist attacks,
But the same polls also show Le Pen losing the second-round runoff — to be held in early May — prompting her to make further efforts to polish her image and that of her camp, including with a campaign poster sporting the slogan "France Brought to Peace", and not bearing the party's name or logo.
"I'm very relaxed, impatient to start this presidential campaign," Le Pen told reporters. "I am eager for the match to start, to debate issues that are essential to the survival of our country as it is now.
She was speaking at her party's annual rally, this year in the Mediterranean town of Frejus, where the mayor, David Rachline, is a rising party star and Le Pen's campaign manager.
Le Pen, who was alone amid France's major party leaders to back Britain's exit from the European Union and is also alone in supporting U.S. Republican candidate Donald Trump, hopes to benefit from rising anti-establishment sentiment amid voters on both sides of the Atlantic.
"I am, and will be, in this presidential election the candidate of the people, who have been forgotten, scorned, over the 20 past years," she said at the start of the rally in the southern France town of Frejus.
Le Pen mocked the bitterly fought primaries of France's conservatives and center-right, which will pit ex-president Nicolas Sarkozy against former Prime Minister Alain Juppe and other candidates in November, and that of the Left, scheduled for January. She said they were battles of egos and cockfights.
Rachline and her niece Marion Marechal-Le Pen both told Reuters that the party's campaign would only fully start once those two primaries are over.
"As long as we don't know who our opponents are, it is very complicated to launch a campaign," Marechal-Le Pen said, while insisting the National Front, or FN, believed it could win the presidential election, despite the opinion polls.
I don't say it will be easy," she said. "But a lot of the pieces of the puzzles are falling into place."
She said pointed to security concerns among voters after various deadly attacks in France, and at Britain's Brexit vote.
Rachline said Le Pen would focus on asking voters "whether France must or no regain its independence" and "whether it will, or not, let radical Islam grow."