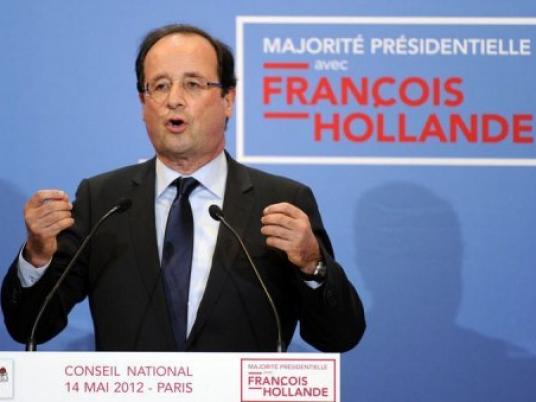 France will hand over evidence to lawmakers on Monday proving President Bashar al-Assad's regime was behind last month's chemical weapons attack in Syria, a government source told AFP.
"It will be a set of evidence of different kinds that will allow the regime to be clearly identified as responsible for the 21 August chemical attack," the source said.
The evidence will be handed over to top lawmakers during a meeting with Prime Minister Jean-Marc Ayrault at 3 pm GMT, ahead of what is expected to be a loud parliamentary debate on Syria on Wednesday.
Another government source said the evidence would include "declassified secret documents" and that "some of them could be made public."
Government sources said Sunday that French intelligence had compiled information showing the Syrian regime had stockpiled more than 1,000 tonnes of chemical agents, including Sarin gas, mustard gas and more powerful neurotoxic agents.
French President Francois Hollande is under pressure for parliament to vote on potential military action in Syria, as the West considers strikes over alleged chemical weapons attacks on the Damascus suburbs last month.
U.S. President Barack Obama has said the attacks claimed more than 1,400 lives. Damascus denies involvement and blames the attacks on rebel fighters.
France has become Washington's main ally in the Syria crisis after the British parliament in a shock move rejected plans for military action mooted by Washington.
Syria has asked the United Nations to prevent "any aggression" against Syria following a call over the weekend by U.S. President Barack Obama for punitive strikes against the Syrian military for last month's chemical weapons attack.
In a letter to U.N. chief Ban Ki-moon and President of the Security Council Maria Cristina Perceval, Syrian U.N. envoy Ambassador Bashar Ja'afari called on "the U.N. Secretary General to shoulder his responsibilities for preventing any aggression on Syria and pushing forward reaching a political solution to the crisis in Syria," state news agency SANA said on Monday.
He called on the Security Council to "maintain its role as a safety valve to prevent the absurd use of force out of the frame of international legitimacy."
Ja'afari said the United States should "play its role, as a peace sponsor and as a partner to Russia in the preparation for the international conference on Syria and not as a state that uses force against whoever opposes its policies."