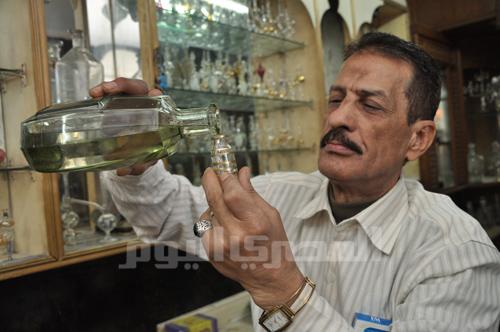 Mamdouh pours his perfume with worshipful concentration.
"In the name of God, the most gracious and merciful." The translucent white of the gardenia and rose, the menthol green of the lotus and the blood red of the musk are portioned by the gram in glass bottles, their fragrances wafting through the shop.
Mamdouh Youssef Riad's aptly named "Arabian Nights" perfumery is filled with the scent of roses, jasmine and, if you stretch the imagination, the ancient lotus. You can find it down the main thoroughfare of Khan al-Khalili, overshadowed by the minaret of Hussein Mosque. Turn left at the Naguib Mahfouz Cafe. Then, take the first right at a small blown glass kiosk into a winding alley.
"Arabian Nights for Oriental Perfumes" is tucked into a corner, with old wooden doors and glass showcases displaying Pyrex blown glass perfume bottles.
But what sets this perfume shop apart from all the others is the infectious and hilarious passion with which Mamdouh sells each perfume.
"Before I sell something, I first love it. I love gardenia, I love Turkish rose, and I love lotus. … I adore these three. Why? I don't know, only God knows."
One customer, Mohamed al-Naggary, said, "He kept saying things that would make us laugh. We were laughing because of the way he treats the customers."
Mamdouh rubs jasmine on one of my arms.
"With this, your mother will love you four times more than she already does." And gardenia he rubs on the other. "The men will run after you in the streets if you put this on."
He learned his passion from his grandfather.
"I grew up in this life. I was created in this life," he says.
Mamdouh's grandfather, the Hajj Metwally, emigrated from Istanbul to Cairo in the days of Ataturk and King Fouad. He bought a shop in Khan al-Khalili and, according to Mamdouh, paid an extravagant bribe of LE250,000 to the Egyptian government to get a certificate to sell pure essence of lotus.
Each fragrance has its unique personality, just as each person has a unique aura. When a customer walks into his shop, he can tell which perfume they may like. How?
"It's just a feeling," he says. And each perfume will smell differently on the skin of each woman. "But the lotus," he says, "the lotus is for every woman."
Of course, there are fragrances for the day and fragrances for the night.
"The daytime perfumes just won't work for the night." Gardenia is for day, as is Turkish rose.
But if you go out, you need something with more bang. And that would be lotus, the crowning jewel of Mamdouh's collection.
"If you put this on and walk in the streets, you will make problems … big problems. It is dangerous!"
"The lotus perfume is connected to Cleopatra herself, queen of Egypt," Mamdouh adds.
Apparently, the lotus flower brought Caesar Augustus to his knees and drove Mark Anthony to kill himself. Mamdouh will tell you that if you put one or two drops of lotus in your bath, "Your husband will eat you alive!"
The Egyptian rose, slightly different in personality from the imported Turkish rose, smells like fields of flowers and rivers.
"What does this smell like to you?" I asked one woman. "Freedom!" she said.
When I told Mahmoud what she said, his eyes brightened.
"Yes, yes yes yes! It does, it does smell like freedom! It definitely smells like freedom."
When asked what freedom meant to him, Mamdouh said, "I am free when I can conduct my business in safety and dignity."
Mamdouh is of the belief that the Egyptian revolution has shaken the country and made it less safe while doing nothing major politically. With a life closely connected to the tourism industry, Mamdouh and his family have been affected deeply by the uprising.
"We have suffered. The whole country is suffering."
According to Mamdouh, before the Egyptian revolution, Arabian Nights was selling about 10 kilos of perfume each week, sometimes more. Now at the most they are selling a quarter of a kilo each week.
"I am not like the people who make money and save it — we live by what comes to us, we don't save millions in the banks," he says. Mamdouh has had to sell land and his car in the past year in order to stay afloat.
Mamdouh does not believe he is free now. The gold and silver scents sit still and undisturbed in their decanters on the glass shelves. But he still sells freedom in his shop when he gets the chance, and his passion for his trade does not dampen with the troubled times, because it comes from a rich heritage and a deep love for what he does.
Mamdouh will be sure to not let you leave his shop until you are drenched in perfume and laughing heartily. It is an experience you will not forget easily, even after the scents have faded.
Arabian Nights for Oriental Perfumes, 8 Wakalat al-Makwa, Cairo