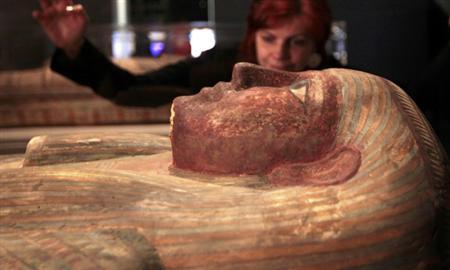 Aswan University Hospital concluded on Wednesday tomography and diagnostic radiography on four archaeological mummies that were unearthed from the western bank in Aswan, in order to find out more about the medical history of their suspected diseases. Symptoms of breast cancer were found on one of the mummies, so far.
The mummies belong to the Late Period of the Twenty-seventh Dynasty and the Twelfth Dynasty of the Middle Kingdom.
The research is expected to shed light on the ancient Egyptians' medical progress in the fields of diagnosing and curing disease.
Nasr Salama, head of the Aswan and Nubia Archaeological Department, said this move comes after scientists declared that one of the mummies is likely to have suffered from breast cancer.
In order for the diagnosis to be confirmed though, according to Salama, scientists have to check for telltale signs of the disease and look for any evidence that the woman had taken any medicine; they will explore as well the disease history in the corpse and the cause of death.
Edited translation from Al-Masry Al-Youm