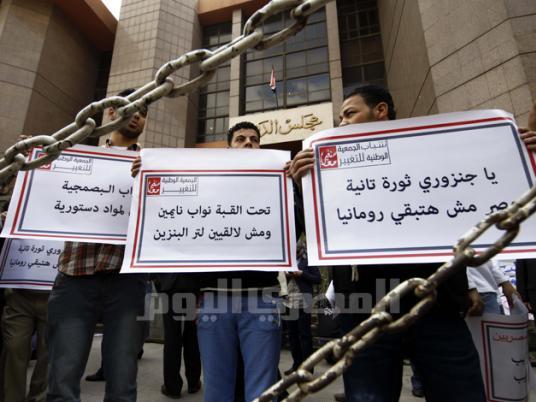 Three members of the National Association for Change (NAC) and a Wafd Party member have announced their withdrawal from the newly-formed Constituent Assembly.
The NAC members who left the assembly are Abdul Jalil Mostafa, the coordinator of the association; Jaber Gad Nasser, a constitutional law professor at Cairo University; and Samir Morqos, a political researcher. Nasser was one of the plaintiffs in the case which resulted in the first Constituent Assembly being disbanded by an administrative court.
The NAC members released a statement saying, "The newly-declared Constituent Assembly is not significantly different from the first formation, which an administrative court ruled invalid because it was based on party representation and not national representation as a whole."
The assembly is divided between secular and Islamic forces and includes around 30 members of Parliament. The NAC members said the presence of MPs on the assembly was contrary to the ruling against the initial assembly, which they said disqualified members of Parliament from sitting on the Constituent Assembly. "This is not how constituent assemblies are formed to draft constitutions," they said.
Mostafa told Al-Masry Al-Youm that the three could not be members of an assembly dominated by narrow partisan conflicts that did not take into account the diversity of the people. He said that political Islamists seek to draft the constitution without regard for the public interest.
He added that the second Constituent Assembly is identical to the first, saying that only a few names had been changed.
Wafd Part member Shahira Dos, wife of Tourism Minister Mounir Fakhry Abdel Nour, withdrew because she "had not been consulted before the she was named to the assembly." Dos was meant to serve as a representative of both Copts and women on the 100-member assembly.
Several members of the Constituent Assembly have withdrawn or threatened to withdraw, including the representatives of the Supreme Constitutional Court and other public figures. Many parties and activists also object to the makeup of the assembly.
Edited translation from Al-Masry Al-Youm