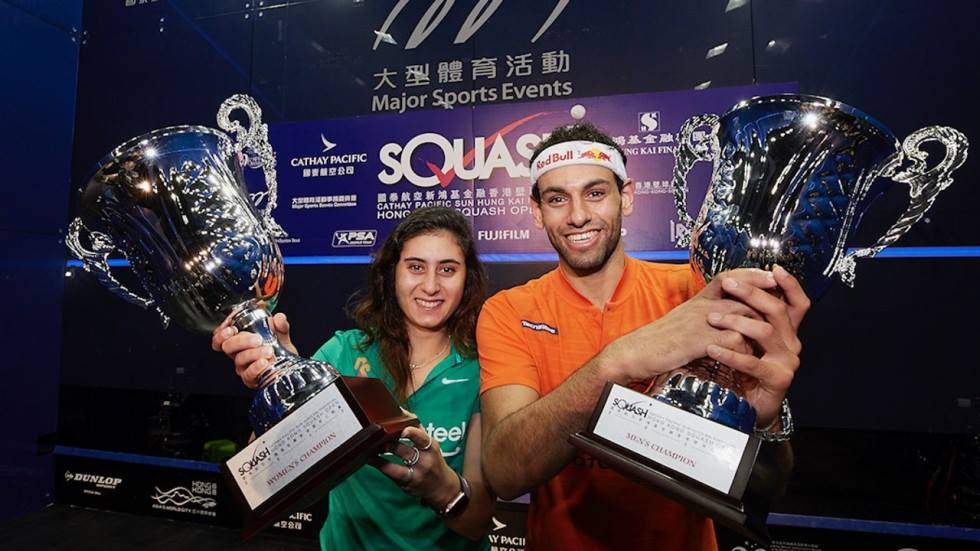 Four Egyptian squash players on Thursday passed the third round of the under-17 category of the British Junior Open squash championship, qualifying for the fourth round, MENA reported.
Egypt's Yahya al-Nusani beat Pakistan's Mohamed Azhan Khan 3-0 (11-2, 11-4, and 11-4). Ibrahim Mohamed defeated the English player al-Hassan Khalil, 3-0 (12-12 11-2 and 11-5).
Egyptian Karim Barbari beat his Indian rival Sharry Maan Raghavan 3-0, 11-6, 11-5, and 11-9. Ahmed Ali also beat English player Alfei Lawes 3-0 (11-6, 11-9, and 11-5).
On the other hand, the Egyptian Roger Bedour lost to Englishman Ben Smith 3-1 (11-5, 11-8, 10-12, and 11-5).
Egyptian squash star Mohamed El-Shorbagy earned first place in the Hong Kong Open squash tournament in November 2018 after beating his Egyptian counterpart Ali Farag in the final 3-0.
Shorbagy, who ranks first in the PSA World Rankings, had a swift win over Farag (ranked second), winning all his sets (11- 6, 11-7 and 11-7) in only 39 minutes.
It was his fourth Hong Kong Open title and his 35th PSA title.
The win sneaked Shorbagy into 8th place of the all-time PSA title winners list, where he leveled with the legendary Nick Matthew.
As for the women, Raneem El Welily took home second place in the same championship after losing to New Zealand's Joelle King 3-0.
Egypt's women squash team won the World Championships in China last September.
The team consists of world No.1 Nour el-Sherbini, a two-time world individual champion, world No.2 Raneem el-Welily, No.3 Nour el-Tayeb and back then No.6 Nouran Gohar, now ranked world number 8.
Back in September, the Egyptian team beat England in the final round of the CGG WSF Women's World Team Squash Championship that took place in China, securing gold.
The national squash team of Egypt is considered one of the strongest worldwide, as they have several titles under heir belts, both as a team and as individuals, including the CGG WSF Women's World Team Squash Championship title in 2017.