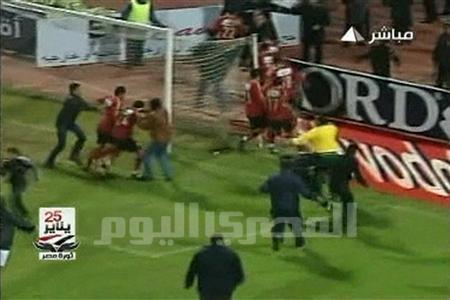 Attorney General Abdel Meguid Mahmoud has banned three former leaders of the now-disbanded National Democratic Party from leaving the country as part of an investigation into the violence that erupted at Port Said Stadium last week.
Fans of the home club, Masry, flooded the field and clashed with supporters of Egypt's leading Ahly club last Wednesday, leaving at least 74 dead and hundreds injured.
Suspects alleged during interrogations that businessmen with ties to Gamal Mubarak, the son of former President Hosni Mubarak who was a prominent NDP official, paid thugs to perpetrate violence and create chaos following the match, judicial sources told Al-Masry Al-Youm.
The officials banned are former MP Al-Husseiny Abu Qamar, former NDP Port Said Secretary General Mahmoud al-Minyawy and businessman Gamal Omar, the sources said.
Assistant Attorney General Adel Saeed said the public prosecution's investigation has determined that many former NDP members were involved in planning the violence, the Egyptian satellite channel Sada al-Balad reported Wednesday evening.
Preliminary investigations have revealed that some businessmen with strong ties to the former Mubarak regime paid people to storm the pitch following the match and use melee weapons against Ahly fans, Saeed reportedly said, noting that the public prosecution will soon summon them for interrogations.
State-run Al-Ahram newspaper reported Thursday that the public prosecution has compiled a list of names of those implicated in the incident. A fact-finding committee set up by the People's Assembly played a major role in finding the suspects, the report added.