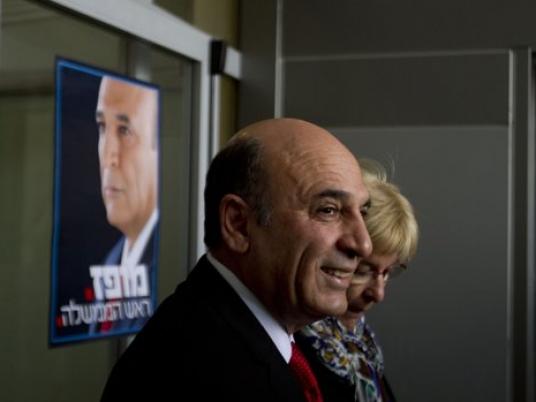 JERUSALEM — Israel's Iranian-born former military chief and defense minister Shaul Mofaz has been waiting more than three years for another chance to take the helm of the centrist Kadima Party.
After accomplishing that mission in Tuesday's primary, he now faces an uphill battle in leading Kadima back to power.
Mofaz defeated the current party leader, Tzipi Livni, in Tuesday's primary by a wide margin.
Preliminary results showed Mofaz soundly defeating Livni. With 95 percent of the votes counted, Mofaz held a lead early Wednesday of 62 percent to 38 percent for Livni.
Official results are only expected in Wednesday morning, but Israeli TV stations have declared Mofaz the winner after building an insurmountable lead over Livni.
But his campaign slogan, "Mofaz. Prime Minister," belies the sorry state of Israel's largest party, which polls show would be headed for a drubbing if national elections were held today.
Mofaz is best known to international audiences for tough tactics he adopted as military chief and defense minister during the Palestinian uprising last decade. Four years ago, he briefly rattled global oil markets by saying Israel would attack Iran as a last resort if it didn't abandon its suspected nuclear weapons program.
But in recent years, he has tried to remake his image in a more statesmanlike mold, proposing the immediate establishment of a provisional Palestinian state and addressing socio-economic issues and women's rights.
Livni, who just a few years ago was among the country's most popular politicians and who routinely shows up on lists of the world's most influential women, has faced heavy criticism for what is widely seen as an ineffective term as opposition leader.
For the first time, a recent poll predicted Mofaz would bring Kadima more votes in a national election than Livni, a former foreign minister who had been Israel's top negotiator with the Palestinians.
Kadima, currently the largest faction in the 120-member parliament with 28 seats, has been hemorrhaging support to the Labor Party and dovish Meretz. It would also be expected to lose seats in a national election to television personality Yair Lapid who has not yet formed a political party.
Mofaz, however, may be able to reverse the damage. Thanks to his security credentials and Iranian descent, he may be able to steal away votes from Prime Minister Benjamin Netanyahu's Likud Party. The hardline Likud appeals to hawkish voters, many of whom are Jewish Israelis of Sephardic, or Middle Eastern, heritage.
Polls currently suggest Netanyahu and his hawkish and ultra-Orthodox allies would together capture more than 70 seats. Kadima would take 12 seats with Mofaz at the top and 10 with Livni as leader.
Elections aren't scheduled until October 2013, though many analysts believe Netanyahu will push the date forward, possibly to later this year.
Mofaz's military credentials are his main attraction to a nationwide audience, especially at a time when Israel is warning of a possible military strike against Iran's nuclear program and feels threatened by ferment in the Arab world.
Mofaz was praised by many here for his response to the Palestinian uprising — harsh military offensives and arrest raids, assassination of militant leaders and the isolation of the late Palestinian leader Yasser Arafat in his West Bank compound until his death in 2004.
Since entering politics, Mofaz has reinvented himself. In late 2009, he surprised many by announcing a new proposal to jump-start stalled Israeli-Palestinian peacemaking. The plan called for the immediate establishment of a Palestinian state with temporary borders in 60 percent of the West Bank and all of the Gaza Strip, in tandem with talks on a final accord. Jerusalem would remain united as Israel's capital.
The Palestinians oppose a provisional state, afraid its borders will become permanent. They claim east Jerusalem as their capital.
They also claim the eastern sector of Jerusalem, which Israel captured along with the West Bank and Gaza in 1967, as part of their hoped-for state. When Mofaz was defense minister, Israel evacuated Gaza in 2005, though it still restricts access by land and sea.
Mofaz joined other Likud defectors in late 2005 to join then-Prime Minister Ariel Sharon in forming Kadima. His first attempt at the leadership race in 2008 saw a razor-thin loss to Livni.
The centrist party emerged from February 2009 balloting as the country's largest. Under Israel's proportional representation system, the leader of the largest party usually becomes prime minister.
But Livni was unable to put together a majority coalition of like-minded factions, and the premiership went to Netanyahu, whose Likud placed second but enjoyed the support of an array of smaller, hardline parties.