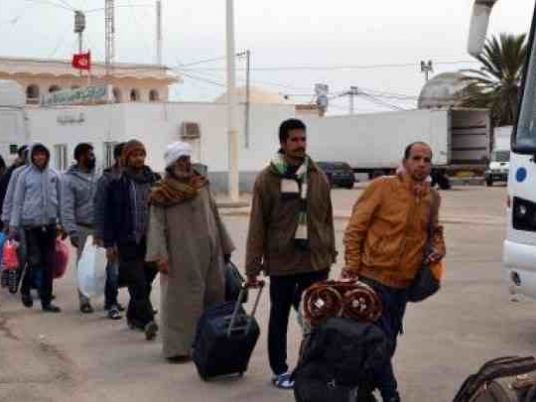 Egypt's Foreign Ministry said on Friday that 25,529 Egyptians have returned from Libya so far.
A total of 4,122 Egyptians have flown back to Egypt aboard EgyptAir until Thursday noon, the ministry added in a statement, emphasising the continuity of transporting Egyptians through Ras Jedir checkpoint on the Libyan-Tunisian borders.
The remaining 21,407 Egyptians have crossed into Egypt through the Salloum border crossing on the Libyan-Egyptians borders.
The evacuation of Egyptians from Libya comes after a video surfaced earlier this month showing the beheadings of 20 Egyptian nationals and another man, who is not believed to be Egyptian.
The Egyptian community in Libya is estimated to be no less than 500,000, according to Foreign Ministry figures.
The unprecedented violence in the troubled neighbour has affected Egyptian nationals residing there since late 2013, with many Egyptians becoming the targets of attacks in Libya.
Egyptian authorities issued a ban on any travel to Libya a month ago.
This ongoing evacuation of Egyptians from Libya is the second in less than a year. Egypt's Aviation Ministry created an emergency airlift with Tunisia last July to transport Egyptians stranded on the Libyan borders with Tunisia back home.