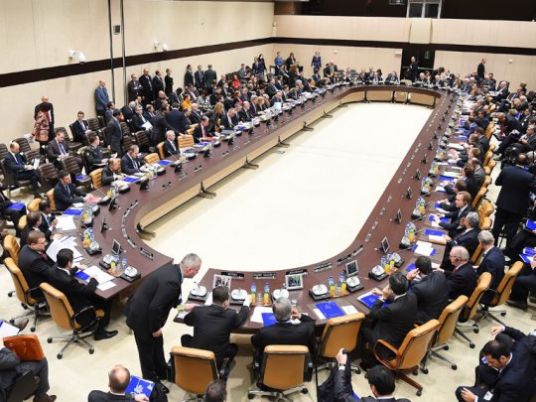 Foreign ministers from the international coalition against the Islamic State group are gathering for talks in London on Thursday, with the threat posed by foreign fighters at the top of the agenda after jihadist attacks in France.
US Secretary of State John Kerry and British Foreign Secretary Philip Hammond are co-hosting talks involving 21 of the 60-odd countries that are working together to tackle the Islamic State (IS) group based in Syria and Iraq.
It will be the first time the US-led coalition has met since this month's Paris attacks that left 17 dead.
"Terrorists want to drive us apart, but in fact their actions have had the opposite effect, they're bringing us together… with greater determination, greater resolve to be able to get the job done. And that is precisely what we're going to talk about in London," Kerry said.
"We need to move ahead on every single front, militarily, but also through law enforcement, through intelligence sharing, by attacking the root causes so that terrorist appeals fall flat and foreign recruits are no longer enticed to go a place and wreak havoc on it."
A US state department official said foreign fighters would be a "real focus" of the meeting and that an expert working group would be formed on sharing information to stop militants travelling.
Twelve people were killed in a shooting at French magazine Charlie Hebdo this month by gunmen affiliated with Al-Qaeda, while a third attacker who shot dead a policewoman and attacked a Jewish supermarket, killing four, claimed he was working on behalf of the IS group, also known as ISIS or ISIL.
The attacks rekindled fears about the dangers posed by well-trained jihadists returning from foreign battlefields.
European police agency Europol estimates up to 5,000 EU citizens have gone to join the ranks of militants in Syria and Iraq.
EU foreign policy chief Federica Mogherini said the attacks in France "were a little bit like our own 9/11", hitting at "symbols of our culture, of our values, like the media freedom, the police, the Jewish community".
"The meeting tomorrow will be that… of a partnership, a partnership that unites us all against a phenomenon that is brutally devastating societies all over starting with the Arab countries," Mogherini added.
Meanwhile, Belgian authorities were still hunting for two men on the run after police broke up a jihadist cell last week, while French authorities charged four men with helping one of the Islamist gunmen responsible for the Paris shootings.
'Taking stock'
Looming over the meeting is also the deadline set by members of the IS group for Tokyo to pay a $200 million ransom for the release of two Japanese hostages. Tokyo believes the deadline will expire at 2:50 pm (0550 GMT) on Friday.
Japanese Foreign Minister Fumio Kishida will not be at the London meeting, but held talks with Hammond on Wednesday as Japanese Prime Minister Shinzo Abe admitted it was a "race against time" to free the men.
Hammond said Thursday's talks would be an "important opportunity to take stock and assess the progress made so far in our joint efforts to tackle ISIL's (IS's) poisonous ideology" and assess what further needed to be done.
In his State of the Union address Tuesday, US President Barack Obama said air strikes on IS targets were having an effect.
"In Iraq and Syria, American leadership – including our military power – is stopping ISIL's advance," Obama said, using an alternative name for IS.
"Instead of getting dragged into another ground war in the Middle East, we are leading a broad coalition, including Arab nations, to degrade and ultimately destroy this terrorist group."
Ministers will also discuss military efforts to support both Iraqi and Kurdish armed forces, how to cut IS financing, counter its propaganda and the provision of humanitarian assistance for those caught in the crossfire.
The countries confirmed to be attending Thursday's conference are Australia, Bahrain, Belgium, Canada, Denmark, Egypt, France, Germany, Iraq, Italy, Jordan, Kuwait, the Netherlands, Norway, Qatar, Saudi Arabia, Spain, Turkey and the United Arab Emirates.
Turkey, which could play a crucial role in attempts to stamp out IS, will be represented by Foreign Minister Mevlut Cavusoglu.
The coalition last met in Brussels in December.