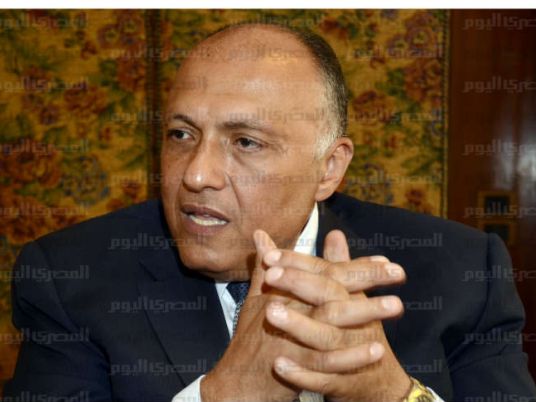 Foreign Minister Sameh Shoukri has expressed his concern at the "unprecedented" spate of untimely deaths of Egyptian expatriates living in Italy, the United States and the United Kingdom, stressing that Egyptian diplomats are following up carefully with investigations in each case.
The minister made the comments at a meeting of parliament's Foreign Relations Committee on Thursday.
He stressed the importance of thorough and transparent investigations into the circumstances of all such cases. However, he said that so far he had no complaints about the cooperation Egypt had received from investigators in the three countries mentioned.
He said that the authorities of the UK, the US and Italy had desmonstrated no reluctance to cooperate with Egypt in the search for the truth. His comments contrast with ongoing criticism from Italian officials about the alleged reluctance of Egyptian officials to cooperate in the investigation into the mysterious death in Cairo of Italian student Giulio Regeni earlier this year.
Since Regeni's body was found in early February, three Egyptians have been found dead abroad. An Egyptian man, Sherif Adel Habib, died in a fire in his garage in London last week, while another Egyptian was found dead in the street in the United States, apparently suffocated. On Saturday, yet another Egyptian man, Mohammed Sobhi Ibrahim Baher, was found dead by some railway tracks in Naples, his body showing signs of torture.
The cases add to Egyptian concerns for the fate of Egyptian citizen Adel Moawwad, who went missing in Italy last year. The Egyptian government has been pressuring Italy to speed up investigations into the whereabouts of Moawwad, who they fear may also have been murdered.
In his comments on Thursday, the foreign minister dismissed any links between the recent death of an Egyptian in Italy and the death of Regeni, saying that the two events were not connected, despite media rumours.
"Some of the assumptions that have been promoted in the press, without evidence, have hurt Italian officials and caused them pain, and weighed down on Italian-Egyptian relations," he said.
Regarding the ongoing investigation into the death of Regeni, the minister said that Egyptian investigators were cooperating with their Italian counterparts to the full extent necessary, exerting maximum effort to catch the perpetrators.
According to a Reuters report this week, Egyptian investigators have now handed over some of the phone records that Italian authorities had asked for in connection with the Regeni murder investigation. Italy had demanded a complete record of all telephone calls made in the area in which he is supposed to have gone missing, including the identities of all mobile phone users over a wide area of Cairo.
Egyptian authorities have said that to hand over such a massive amount of data would breach the Egyptian Constitution. However, an anonymous Reuters source says that at least some of the data has now been provided and Egyptian officials will fly to Rome on Sunday to continue discussions with their Italian partners.
Regeni, an Italian citizen studying for a PhD at Cambridge University in England, went missing in Cairo on January 25, his body turning up on February, bearing the signs of torture. Egyptian activists and opposition figures immediately suggested he had been tortured and murdered by Egyptian security services, and Italian officials have insuated that they suspect the same.
However, the Egyptian government denies security forces were involved in Regeni's death, saying that criminal elements may have been responsible and any number of motives should be considered. Egypt's Interior Ministry claims to have discovered some of Regeni's belongings in an apartment used by a gang of robbers who posed as police officers in order to steal from foreigners.
The Regeni case has harmed relations between the two countries, with Egyptian officials fearing serious consequences for the economy if Italy blocks cooperation on trade, tourism and other projects, including the extraction of natural gas from the offshore Zohr gas field. Egyptian officials had feared the nautral gas project, being run in cooperation with Italian energy firm Eni, would be scrapped as a result of the Regeni controversy, but the project appears to be continuing as planned, with the first gas due to arrive by late 2017.