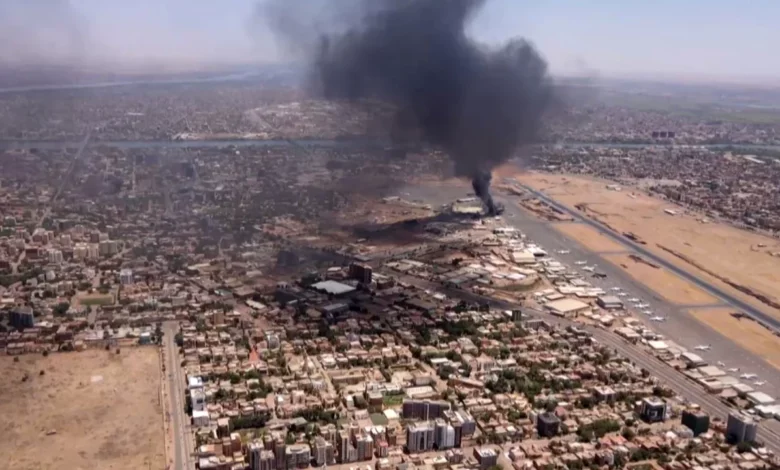 Evacuations of foreign nationals caught in Sudan's deadly fighting are gathering pace, even as on the ground many Sudanese are stuck in deteriorating conditions.
US special forces helped bring almost 100 people – mostly US embassy staff, as well as a small number of diplomatic professionals from other countries – to safety on Saturday, US officials said.
The evacuations have been complicated by ongoing clashes. The two sides at the center of more than a week of fighting – Sudan's army and a paramilitary group called the Rapid Support Forces (RFS) – blamed each other after a French evacuation convoy came under fire trying to leave Sudan. A French national was injured.
Several other European nations also say they are working to evacuate their civilians. Egypt told its citizens outside of the capital Khartoum to prepare for withdrawal, while urging those in Khartoum to stay put. Saudi Arabia and Iraq said on Saturday that they had managed to bring their diplomats, as well as other foreign nationals, to safety.
The flurry of operations came on the ninth day of clashes in Khartoum.
Sudan's military leader, Gen. Abdul Fattah al-Burhan, and commander of the RSF, Lt. Gen. Mohamed Hamdan, seized control of the country in a military coup in 2021 and were due to hand over power to a civilian government but turned on each other instead.
More than 420 people have been killed and 3,700 injured in the fighting, according to the World Health Organization (WHO). The humanitarian situation on the ground is deteriorating without access to medical services, and with many left stranded without food or water.
With the main international airport still shuttered, many Sudanese civilians are either trapped in their homes or scrambling to find exit routes out of the country via its land borders – a complex and dangerous feat amid limited internet access.
A series of ceasefires, including the latest called for the Muslim holiday Eid al-Fitr, have been broken.
Residents in parts of Khartoum told CNN early on Sunday morning that there were no signs that the cessation of hostilities was being adhered to, as they awoke to aerial attacks, heavy artillery, explosions and gunfire. They relayed that clashes were raging around the military headquarters and presidential palace in the city center.
'No power or water for five days'
Despite the continued fighting and steep risks, foreign governments continued to announce rescue missions and plans to pull their citizens out on Sunday.
Egypt urged their national citizens outside Khartoum "to go to the nearest point to them in preparation for their evacuation by the competent Egyptian authorities," according to a statement from the Egyptian Ministry of Foreign Affairs, reported by state-media Middle East News Agency (MENA) on Sunday.
France's foreign ministry said the "rapid evacuation operation" of diplomatic personnel and French citizens from Sudan was being coordinated with its European and allied partner nations. The Dutch embassy in Sudan said in a statement that it was participating in an international evacuation on Sunday, and would try to extract as many people as "quickly and safely as possible." Belgium's foreign minister said Sunday that the country was working with France and the Netherlands on "multiple operations" to evacuate Belgian citizens from Sudan.
Spain is working "intensely" to get a landing slot for planes to safely evacuate Spanish citizens from Sudan, a government source told CNN Sunday.
Sweden's parliament, the Riksdag, has given the go-ahead for up to 400 soldiers to help carry out an evacuation from Sudan of Swedish and foreign citizens. Evacuation for Norwegian government staff posted in Sudan is also underway, the foreign ministry in Oslo told CNN on Sunday.
The moves come after Saudi Arabia's ministry of foreign affairs said Saturday that it had evacuated 91 of its own citizens and around 66 nationals from 12 other countries, including Qatar, Egypt, Canada, India, Burkina Faso and the United Arab Emirates. Iraqi diplomats were also withdrawn from Khartoum in a special operation and "moved to a safe place" in Sudan, a spokesperson for the Iraqi foreign affairs ministry told CNN.
Turkey delayed its evacuation efforts Sunday, warning citizens not to gather at designated assembly points that it planned to use due to "violent explosions" that have taken place nearby. A day earlier, Canada told its citizens in Sudan that evacuations were "not possible at this time," advising them to "continue to shelter in place."
While foreign governments rush to withdraw their citizens and staff, millions of Sudanese citizens have been left to fend for themselves – stranded for days in their homes and uncertain of how to make their way out to safety.
Isma'il Kushkush, a Sudanese-American journalist based in Khartoum, was trapped with dozens of other residents in a building in downtown Khartoum near the presidential palace for days. He said he was in a group of 29 people, including children and foreign nationals.
"No power or water for five days. Using little water remaining in water tank. Running out of food rations. Unable to leave the building which is located two blocks from the presidential palace. Epicenter of the fighting since the conflict began," he said in a string of text messages to CNN. The group was later safely evacuated.
In neighborhood WhatsApp group chats and on social media, others were deliberating over where to get water, to charge phones, find medics and find safe passages out of Khartoum free of fighting.
Nisrin Elamin, a professor at the University of Toronto who was back in Sudan visiting family with her three-year-old daughter when the violence erupted, posted on Twitter on Saturday asking if anyone had advice of getting to Egypt by public transportation that avoided crossing the whole city.
Furious over the fighting, Sudanese civilians protested over the weekend. In Bahri, hundreds took to the streets late on Saturday, using their lights from their phones while walking, eyewitnesses told CNN. Residents planned to show their discontent by displaying white flags in their homes on Sunday.
Xiaofei Xu, Joseph Ataman, Al Goodman, Heather Chen, Sugam Pokharel, Duarte Mendonça, Eyad Kourdi, Gul Tuysuz and Jennifer Hansler contributed to this report.