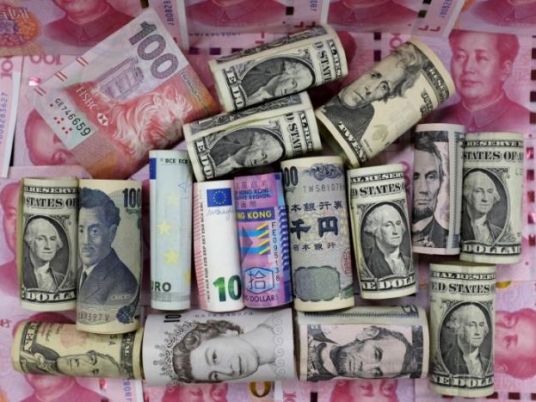 Wednesday's exchange rates for foreign currencies at the Central Bank of Egypt (CBE) are as follows:
The US dollar is LE19.18 for purchase and LE 19.25 for sale.
The euro is LE 19.20 for purchase and LE 19.29 for sale.
The sterling pound is LE 22.43 for purchase and LE 22.53 for sale.
The Swiss Franc is LE 19.74 for purchase and LE 19.82 for sale.
The 100 Japanese yen is LE 13.84 for purchase and LE 13.90 for sale.
The Saudi riyal is LE 5.10 for purchase and LE 5.12 for sale.
The Kuwaiti dinar is LE 62.25 for purchase and LE 62.52 for sale.
The Emirati dirham is LE 5.22 for purchase and LE 5.24 for sale.
The Chinese yuan is LE 2.77 for purchase and LE 2.78 for sale.
Egypt's foreign currency reserves fell to a record level during the first week of August.
The CBE revealed that net foreign currency reserves initially reached US$33.14 billion at the end of July 2022, compared to $33.37 billion at the end of June.
The balance of payments incurred a total deficit of about $7.3 billion, almost all recorded during the first nine months from 2021-2022 until March due to the Russian-Ukrainian crisis, according to the Central Bank of Egypt (CBE).
This came in addition to the rise in the import bill in light of the rise in international prices, and the exit of foreign investments from the stock portfolio which was paid without any delay – bringing a decline in net inflows in the account of capital and financial transactions.
The CBE revealed on August 31 that remittances of Egyptians working abroad recorded about dlrs 31.9 billion in FY 2021-22, with an increase of 1.6 percent, compared to about dlrs 31.4 billion in FY 2020-21.
Bloomberg news agency reported that the increasing pressure on the Egyptian economy has led the largest banks in the world to believe that Cairo needs to depreciate its currency again. 
Greater flexibility of the Egyptian currency is required in light of Cairo's pursuit of a new loan from the International Monetary Fund, the agency stated.
Bloomberg referred in a report to the inevitability of the devaluation of the Egyptian pound.