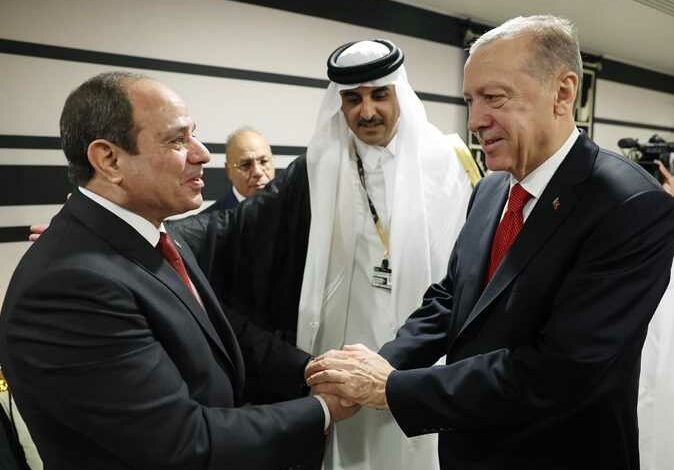 A photograph of Egyptian President Abdel Fattah al-Sisi and Turkish President Recep Tayyip Erdogan shaking hands at the beginning of the 2022 World Cup in Qatar has made headlines.
This is the firs time the two leaders have been together the two leaders since President Sisi took power in 2014.
In the picture, the Emir of Qatar, Tamim bin Hamad, joins them together, as he sits at the front at the opening of the World Cup ceremony.
Qatar's Emir Tamim bin Hamad sat in the middle of the leaders in the first row, next to Saudi Crown Prince Mohammed bin Salman, whose presence at the opening of the World Cup in Qatar represented a special event for fans.
There were hashtags on Twitter to welcome his presence at the opening of the World Cup in Qatar, which is the first Arab country to host the tournament and the second Arab country to be present in the opening match after Saudi Arabia itself.
In the first row also appeared King Abdullah II of Jordan, who was next to the father Emir and the former ruler of the State of Qatar, Hamad bin Khalifa, and whose country bid to organize the World Cup during his reign.
Next to them are President Sisi, FIFA President Infantino and Erdogan, whose first appearance outside his country after the recent terrorist attack in the famous Taksim Square.
The World Cup began in Qatar on Sunday, bringing in acclaimed Hollywood star Morgan Freeman to discuss the importance of diversity and how football in general can bring people together.