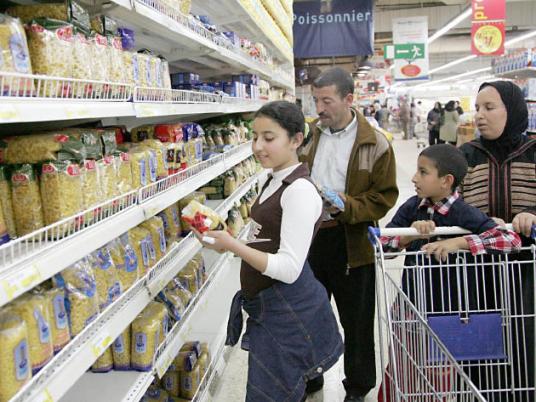 The Central Agency for Public Mobilization and Statistics (CAPMAS) has announced that the monthly inflation rate rose by 0.9 percent in July compared to the previous month, while the annual inflation rate hit 11.5 percent, compared to 6.3 percent in July of last year.
CAPMAS attributed the rise to increases in foodstuff prices.
The price of cucumbers rose by 14 percent, zucchinis by 25 percent, peppers by 18 percent, onions by 21 percent, garlic by 103 percent, grains and bread by 18.4 percent, and rice by 26.8 percent.
The price of fruit went up by 16 percent, yogurt by 18 percent, eggs by 34 percent, and fish by 12.5 percent.
The price of red meat rose by 6 percent, poultry by 18.6 percent, imported butter by 33.9 percent, cooking oil by 10 percent, and ready-made food by 26 percent.
The price of health care services went up by 11.4 percent, furniture and household equipment by 17 percent, and appliances by 9.5 percent.
Salwa al-Antary, a former researcher at the National Bank of Egypt, attributed the rise in the inflation rate to the devaluation of the Egyptian pound against foreign currencies and to monopolistic practices in the market. "In addition, the turbulent situation in the streets has affected supply and demand," she said.
Salah al Sabaa, professor of economics at the British University, attributed increased inflation to a decline in local production, resulting from the poor security situation. "Lowering interest rates can help," he said. "But security must be restored."
For their part, fish traders said demand increased by 40 percent this week, pushing prices up by 20 percent.
Mohamed Halim of the Cairo Chamber of Commerce said that the hunting season has ended, which is why supply is lower than demand. "We now depend on fish," he said.
Mohamed al-Shafei of the Chamber of Food Industries said that the price of poultry fell in the fourth quarter of Ramadan from LE16 to LE12.50 due to low demand.
Edited translation from Al-Masry Al-Youm