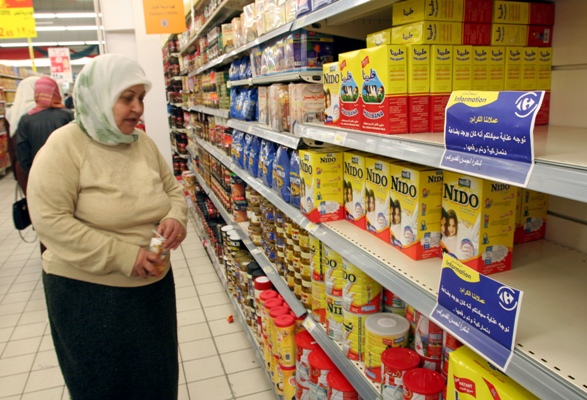 Egypt's Minister of Supply and Internal Trade Ali Moselhi issued a decree this week obliging all food producers to print a price label on all their products in clear Arabic font or face jail time, ministry spokesman Mamdouh Ramadan said.
"We don't want to scare the market. This is not an Egyptian invention. All countries try to regulate their markets to protect (citizens) from the greed of some traders," Ramadan said, adding that it is not a compulsory pricing.
The decision, which was published in the state's official gazette on Tuesday, includes companies that produce food products locally as well as those that package imported products.
The decree also prohibits dealing with products that are not priced anywhere down the line, whether in retail, packing or distribution, adding that violations could result in jail sentences of up to five years, fines and confiscations.
The supply ministry gave until the end of this year as a deadline for dealers selling any products that are not labelled, which should also have set prices prior to the end of the deadline.
"Penalties on those who violate the law include one to five years in prison and a fine between EGP 300 and EGP 1,000, in accordance with Article 9 of the compulsory pricing and profit regulation law," the decree said.
Egypt has been pushing ahead with a series of austerity measures, including fuel and electricity subsidy cuts, to help ease the country's gaping budget deficit, and to ease inflation.
In August, food prices increased year-on-year by 42.2 percent. In September, however, annual urban consumer price inflation eased slightly to 31.6 percent from 31.9 percent in August.
On Monday, the cabinet issued a decree stipulating that violations of certain security and economic laws, including crimes related to regulations on the supply of goods and mandatory pricing rules, will be referred to state security emergency courts as long as Egypt is under the ongoing state of emergency.
The Egyptian government decided on Thursday to extend the state of emergency that was imposed in April for an additional three months starting from Friday, in accordance with a decree issued by President Abdel Fattah al-Sisi.