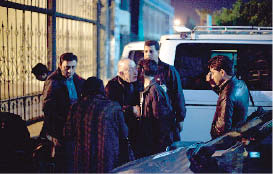 PORT SAID — It's just after 2 am on Monday, and dozens of people are milling around the gates to Port Said's main docks. Microbus drivers stand in groups outside their vehicles, smoking cigarettes and joking as they wait for the arrivals.
They were expecting a cargo ship sailing from the Turkish port city of Iskanderun to offload hours ago, but its contents are just now clearing customs. After 25 hours onboard, 620 Syrian refugees emerge.
The arrival scene is similar to one at any major transport hub: Hugs are exchanged, luggage is lifted out of weary hands and people step into the cars or buses that will take them to their destinations. The difference is that most of the gestures and comforts here are offered by strangers.
"We didn't know them, but it was like seeing family," says a 57-year-old Aleppo native, Marwan Waled, of the greeting he received in the early hours of 21 January.
Much of the welcoming party — the free transportation and the hotels, chalets and apartments the refugees head to — has been organized by an association of six Port Said businessmen. Fawzy Shurba, a textile merchant and the group's leader, says the Egyptian government provides little official assistance, except for a few buses the governorate sends to the port.
The coastal city has become an arrival point for many Syrian refugees, with ships arriving about every other week with hundreds on board, Shurba says. Some choose to go on to Cairo or Alexandria, but he estimates that five or six families resettle in Port Said from each group of arrivals.
Shurba's business association, initially formed to combat corruption in local industry, stepped in when he came across a Syrian family sleeping on the streets. For the past three months, the association has been providing food, blankets and medicine, and encouraging colleagues to temporarily offer apartments for free or reduced rent.
Shurba, 52, says Port Said residents can identify with being displaced because they were forced to leave the city in the late 1960s and early 1970s during Egypt's conflicts with Israel.
"We feel how our brothers are [in Syria] and we are a lot more concerned about this because of what we experienced before," he says.
"When the ships arrived and we started asking the Syrians why they had left Turkey and from Jordan, they all replied saying that the treatment there was inhumane, especially in the camps," says Shurba, 52, who wanted to give a better welcome.
He says the association helps the refugees until they "get onto their feet" and find a job, a bit reticent regarding the specifics of the funding involved.
"The Egyptian people love the Syrian people," says Ali Abul Ezz, another commerce association member, with a smile.
Escape route
Several Syrians who arrived on earlier ships say they were hundreds of passengers to one cargo hold, with benches to sit on and buckets for bathrooms. Having already paid US$185 per person for the passage — in addition to the bribes and expenses of fleeing Syria — most could not afford the extra $100 for a private room.
The Mediterranean crossing is only one leg of a much longer journey for the more than 3,000 refugees who have arrived in Port Said in the past eight months.
Sniper fire was the biggest threat when Um Abdu left Aleppo about a month ago, she says. Bombings in the northwestern town of Azaz then forced her convoy to change its route to Turkey. A contact in Port Said had told them about the ship from Iskenderun.
"We arrived at the Turkish borders exhausted as we got on the ship," she says, adding that they were not treated well in Turkey, where she says strict controls and hefty fees are imposed. "We were also psychologically exhausted. Everyone's morale was low. Everyone was frustrated."
Despite the steady escalation of the conflict in Syria and the dangers of daily life under siege, for many, the choice to leave is not easy. However, some, like Abu Rosira and his wife, Fatima, know in a moment that it is time to flee.
A food wholesaler in Damascus, Abu Rosira, who asked to be identified only by his nickname, allowed the Free Syrian Army to use his truck and helped provide food and supplies to opposition forces.
One day, he says, his photo was posted on Facebook as an enemy of President Bashar al-Assad's regime targeted for death. He and his family say they had further confirmation they were being hunted when his 17-year-old son was approached by soldiers the same day in their Damascus neighborhood while taking the garbage out. Fatima is certain the soldiers planned to take her son away, but says she was able to get him back in the house by feigning illness.
"Over there, there is no mercy. If they found a child they could kill him, a woman, they could kill and then rape her. Nothing is 'haram for them,'" Abu Rosira says, speaking from the Port Fouad apartment the family and their six children, ages 2 to 17, now live in.
He describes blasts that left bodies hanging from clotheslines. Saying goodnight to neighbors in their Damascus suburb was saying "hope to see you tomorrow," he says.
Despite the danger, Fatima says the day they left their home a month and a half ago felt like "leaving our soul."
Not knowing or caring which country they would end up in, the family escaped from Damascus by car, going first to a relative's house to avoid suspicion.
"The area 20 minutes from Jordan is very dangerous, its pin-drop silence. … Even the driver who brought us, I couldn't hear him breathe," says Abu Rosira.
After the tense ride, Syrian border guards made them wait nine hours at the border because they were suspicious of the family's new passports, he says. Smugglers near the border were asking LE1,000 per person to facilitate the crossing into Jordan — an alternative the family could not afford.
After two days of waiting, the family was allowed to leave Syria. Not wanting to be placed in refugee camps, they told authorities in Aqaba they planned to go on to Egypt and were forced to sign an affidavit that they would leave Jordan within 12 hours.
"The thing that affected us the most was the Egyptian people welcoming us," Abu Rosira says of later arriving in Port Said. "Mr. Fawzy Shurba's people and the merchants, the greatest thing was when they greeted us. Honestly, I shed a tear. I felt the world was still OK."
Making a life
Abu Rosira's 17-year-old son says he'd rather be fighting alongside friends in the FSA. Now he's the family's only source of income, working at a local bakery from 6 am to 6 pm.
Everything the family needs and even some things they don't need, like a television, are provided by the business association without making the family feel embarrassed, says Fatima. But it's clear she and her husband are eager to repay a debt.
"We won't stop [searching for work]," Abu Rosira says. "Whether we were high or low over there, we are coming to work. We don't want to be any burden on them, thank God for the people of Egypt."
Their neighbor, Abu Malek, who also lives in an apartment provided by the local business association, worked in real estate near Damascus. Now he paints houses when he can find jobs.
"We didn't have any contacts here in Egypt. But those who came to Egypt before us told us that its people are kind and there is work," he says.
Legally, they are granted an entrance stamp that is valid for three month and that can be renewed for another six months later. According to Shurba, if their children go to school, they are given a one-year visa stamp.
Dreams of home
Despite the trauma they've experienced in Syria and the generosity they say they've felt since arriving in Port Said, all of the refugees Egypt Independent spoke with say they would return home if they could. Most agree that peace, regardless of the political outcome, would be enough to draw them back to Syria.
"We led an easy life there. It is only the raids that drove us out of the country," says Um Abdu. "If the planes and random airstrikes stop, we will return."
Waled left Aleppo five months ago when his neighborhood and house were bombed. The pawn-shop owner first came to Egypt but then returned to Turkey to be closer to Syria in case an opportunity arose to go back.
"The situation in Syria is too complicated. Maybe someone with more knowledge of politics could [understand], but I'm just a normal person," says Waled, hours after the late-night cargo ship brought him to Egypt for the second time.
Others, like Abu Rosira, are confident Assad's government will fall. Even if his family has to wait a decade for calm to be restored, he hopes to take them back to Syria.
"God willing, we will rebuild it once again and it will be good for our children too," says Abu Rosira.