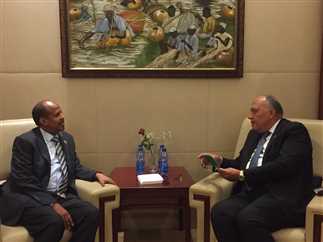 Egypt's Foreign Minister Sameh Shoukry met on Thursday with Djibouti Foreign Minister Mahmoud Ali Yousuf and discussed establishing an Egyptian free zone in Djibouti.
The meeting came on the sidelines of the preparatory meetings for the 2019 African Summit held in Addis Ababa, Ethiopia. The ministers discussed bilateral relations between their two countries and regional issues of common concern, Egyptian Foreign Ministry spokesperson Ahmed Hafez said.
Hafez pointed out that Shoukry welcomed the positive momentum witnessed by the relations between the two countries, stressing Egypt's aspiration to strengthen relations in the future in various fields. Shoukry also praised the wise leaders of Djibouti, who have contributed to maintaining the stability of the country, Hafez added.
Shoukry referred to the important role played by the Egyptian Agency for Partnership for Development (EAPD), which provides training courses to Djibouti's cadres in the fields of health, energy and diplomacy, according to Hafez.
The EAPD also provides medical assistance for dialysis, he added.
The two ministers also discussed the establishment of an Egyptian free zone in Djibouti, which aims to revive the economies of the countries of the Horn of Africa, attract Egyptian investments to Djibouti, and increase trade exchange between the countries of the region.
For his part, Yousuf stressed the historical relations between the two countries and his country's aspiration to develop them in all fields. The meeting also tackled a number of regional issues, such as the situation in the Horn of Africa and the Eritrean-Djibouti relations. The two ministers stressed the importance of maintaining stability and achieving integration in the region by supporting cooperation programs.
The situation in Yemen and Somalia, as well as the security of the Red Sea and the leading role of riparian countries in this regard, were also discussed, Hafez said.
Edited translation from Al-Masry Al-Youm